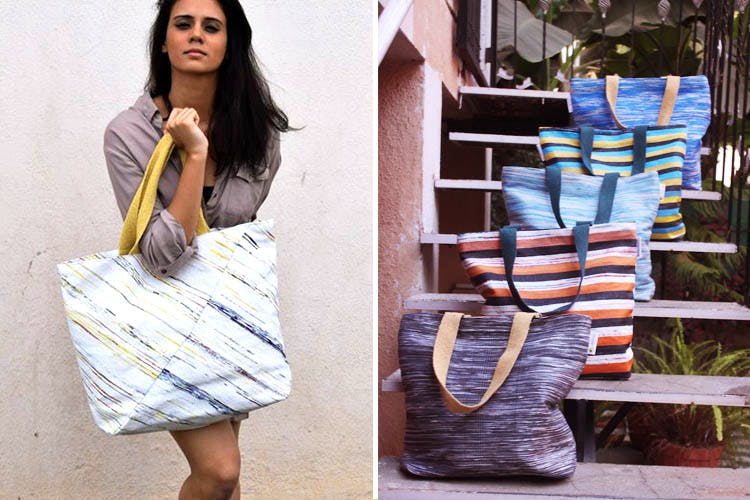 No Plastic Zone: This Company Sells Bags Made Of Upcycled Waste
Shortcut
While most of us talk about the increase of plastic waste in recent times, Aarohana EcoSocial Developments, a company based out of Karvenagar has found a way to recycle this waste and turn it in to pretty handmade totes, purses, home decor and more.
Tell Me More
Anita Deshpande and Nandan Bhat, Aarohana focuses on projects that revolve around waste management, clean energy, education, health, water conservation, sanitation, environment and heritage conservation. However, there is a human interest angle in every project they undertake. Aarohana believes in enabling rural livelihoods. Currently, they are actively working towards upcycling waste plastic into hand-crafted fabric using charkha and handloom. The project is based out of one of the tribal areas in India, where they rope in artisans, women and youth to design products out of this fabric. Thereby, generating a steady income for them.
Aarohana is not just about upcycling plastic waste, but any form of waste that is a threat to our ecological balance – from denims to flex, foam and pet bottles.
So, what do you get out of the waste? Multi-colour quirky beach bags, slings and totes, ranging between INR 600 and INR 1,500. You can also score cute little pouches and wallets, starting at INR 200. We highly recommend you check out their collection of coasters and table mats, starting at INR 300. Need something for your workout sessions? Aarohana's eco-friendly yoga mats for INR 900 and trendy gym bags for INR 1,000 are to die for!
For more, shop online here.
Anything Else?
Do your bit for the environment and upcycle your household plastic waste. You can donate plastic carry bags, clean packets of foodgrains, wafers, noodles and detergents and gift wraps to Aarohana. You drop them once a month at their office in Karvenagar.
#LBBTip
You can also volunteer at Aarohana. All you have to do is fill up this e-form here.
Comments