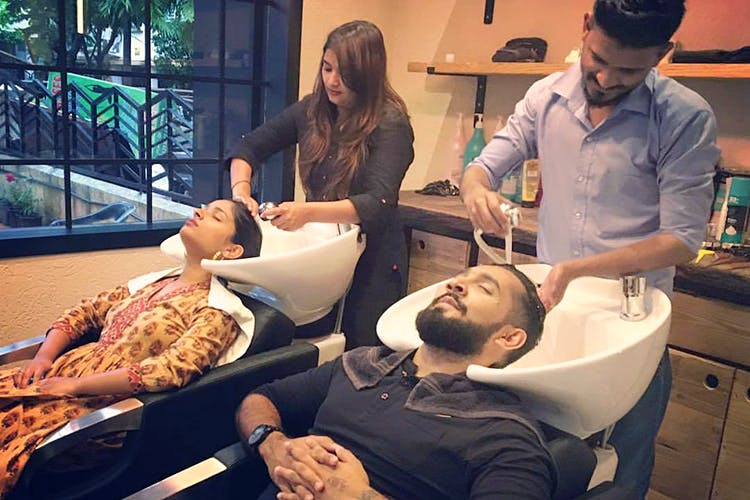 Looking To Unwind? Pamper Yourself At These Luxury Salons In Pune
Whether you want a stylish new haircut or a just want to unwind with a relaxing massage, there is no better place to go than to a salon. LBB has picked the best places that are guaranteed to relax and rejuvenate you.
Enrich
Enrich Salon has a reputation for giving great haircuts for very reasonable prices. Other hair services include hair spas (starting from INR 750), and head massages (INR 525). The salon's real variety however, lies in its advances hair treatments which include Pro-Keratin Shine Straight (starting from INR 2250 depending on the length of the hair), Lipidium Vapo Reconstructor (starting from INR 1100), Serioxyl (starting from INR 1100) and many more. In addition to the sheer variety of services, this salon also offers discounts for students (remember to carry your ID card!).
The Bombay Hair Company
The quaint atmosphere at this salon will help you relax as you get pampered by the staff, who are committed to giving you the best experience possible . Hair services include cut and colour, while skin services consist of manicures, pedicures and waxing. Prices are not advertised on social media and will be given based on which services you would like to undertake and your specifications.
Toni & Guy
This state of the art salon has an international reputation for giving stylish and trendy haircuts. Located at Koregaon Park, this salon offers several hair services including cutting, straightening, colouring and even hair spas. Their haircut prices vary from INR 1652 to INR 2124 for women and from INR 885 to INR 1475 for men. Colouring rates vary depending on the length of hair and the customer's needs, but highlighting rates are approximately INR 7000.
Hair treatments including straightening and smoothening start from INR 7000 for hair above shoulder length and vary depending on the length. Skin Services include treading (upper lip threading starts at INR 95), waxing and facials (start at INR 2598).
B Blunt
Although they're primarily known for their haircuts, Pune's B Blunt offers several services that are customised just for you. Customers start with a consultation to specify which services you would like to undertake and what kind of look you're going for. Similar to other salons, there is a hierarchical where pricing depends on the experience of the hairstylist. Hair cuts start from INR 600 and go upto INR 2200, Colouring varies from INR 4500-7000 and blow-drying can go upto INR 1500.
The salon also offers facials stating from INR 2500 and you can finish your pampering off with a mani/pedi starting from INR 850. The salon keeps track of the services you undertook so they can give you the best possible experience the next time you need to unwind.
Hair 2 Order (H2O)
From massages to haircuts, H2O has a variety of services that will suit all of your pampering needs. Take in the relaxed ambience while getting a gel manicure (starting at INR 600) or if it's a special occasion indulge in one of their many facials (starting from INR 1200) or body rituals (INR 1750). Other services offered include haircuts, waxing, threading and several skin services. The wide range of services offered is undoubtedly impressive, making H2O a one-stop destination for your designated end-of-the-month salon day.
Richbit Salon
Treat yourself to a nice session of facial or a hair spa at this green salon in Aundh. Situated in Chitraban Society opposite Croma showroom, Richbit Salon is an ideal place where luxury meets wellness. Earlier known by the name Reedo salon, it is now Richbit Salon though the interiors are same.Restore the lost glow by booking their special vegan NIMRAH facial package and get a radiant skin. If you happen to have to extremely dry skin, we recommend you try out the dewy facial which will naturally moisturise. Similarly, if you are facing severe hair problems, treat yourself to a relaxing session of hair spa, which will eliminate all the frizz. The spa packages for women start at INR 650 while for men, INR 531. Other than that, they provide hair treatments too.

Juice Salon & Nail Bar
The newest kid on the block, Juice Salon & Nail Bar has opened up in Baner and Kothrud. Visit the salon to experience luxury in its true sense. While you can book them for professional makeup and hair/skin treatments, they are known for their exclusive nail treatments and nail arts starting at INR 500 only. Apart from these services, you can shop for some premium beauty and skincare brands.
VLCC
Yes, it is a slimming and wellness centre but did you know they also offer all the salon services? Right from trendy haircuts to nourishing spas, threading, waxing to classic mani-pedi services, VLCC salons will make sure you unwind yourselves with their beauty and grooming procedures. We love the hair-spas they offer. be it a classic Loreal spa which you can get for INR 700 to their signature Moroccan spa, pamper your hair and flaunt those luscious locks.

Comments