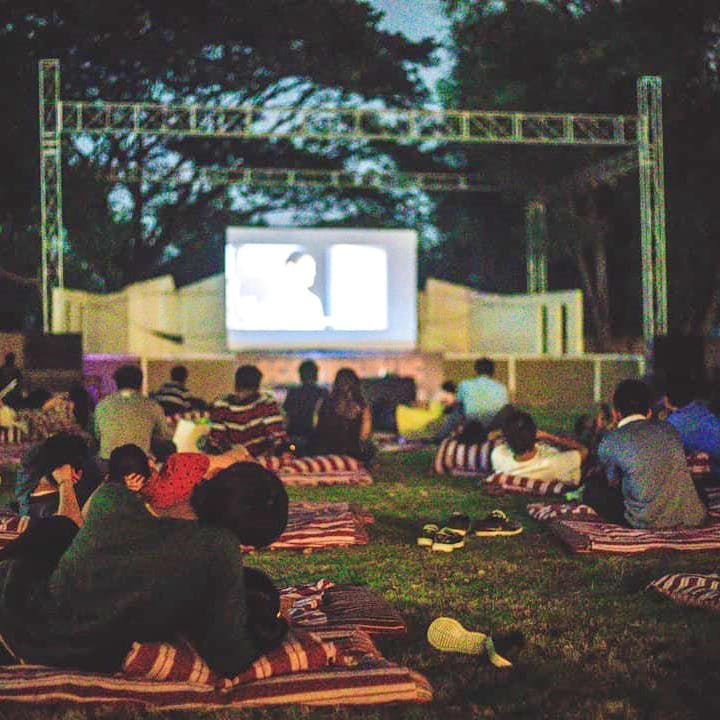 Dating Spots In The City For Every Kind Of Couple
If you've found that person who loves to go to on off-beat dates with you, don't let them go. Cosy up with your bae and have a date that's a little different than the usual dinner and movie. You can cuddle up under the stars, sit on a rooftop to drink, enjoy music or do something edgy and fun. Whatever kind of couple you may be, there's something in this list for you.
Watch A Movie Under The Stars At SCC Republic
Every weekend the open-air theatre at SCC Republic in Koregaon Park hosts movies. There's comfortable floor seating, and you're free to bring in your own blanket. It's the perfect elevation to a regular movie date. You get to catch an old favourite flick together (they had a Harry Potter marathon, a 90s movie marathon and more), cuddle up in a blanket and have a cosy date night. The place also offers food and drinks, so you can grab something to munch on.
Glide In Love At Hadapsar Gliding Centre
Take your date to the next level (quite literally). You can glide in the air by opting for a joyride at the Hadapsar Gliding Centre. They provide joy rides for INR 187 per person, so you and your date and soar in the air and have a ball of a time. You'll be strapped in a two-seater glider, and there'll be a pilot too of course. But, you'll get the privacy and the thrill you need.
Listen To Music & Jazz Up At Shisha Jazz Cafe
What's love without some music? Plus, it's the perfect way to break the ice when you're on a date. And, jazz helps! Shisha Jazz Cafe has live music every Thursday, so you can head here for a date night and enjoy music. The Irani and North Indian food is worth digging into too and maybe you can even ask your partner for a little dance.
Eat In Candlelight At Exotica
Dining at Exotica is the ideal way to express your love, if you're a couple who loves mush. Dine in candlelight at this Yerwada restaurant. You can dig into rich North Indian food, which includes chicken lababdar, Hyderabadi dum biryani, mutton rogan josh, dal zafran, hara bara kebab and don't forget to order some bread pudding. It's an old-school romantic rooftop, serving a menu that'll make you nostalgic.
Chug Together At Toit
Located in the compound space behind Le Flamington in Kalyani Nagar, the taproom is on the property that is said to have been Aga Khan's stables. Enter and you're welcomed with a picturesque stone house that looks like it's out of a different era; and the space has a rustic and cosy vibe. Pick a spot around the banyan tree, near the wood-fired oven, close to the outdoor bar, inside the stone house or up on the balcony. Sip on Toit's craft brews and munch on haleem samosas, crumb-fried chillies stuffed with cheese, appams with a green mango baby potato curry and more. The bar is apt for a date as there's enough room to find a nook, and it's fun to try different brews with your boo, no?

Hike Up Pune's Hills Together
Pune has several tekdis or hills to hike up. After all, couples who workout together, stay together, no? Go on an evening stroll if you can't be bothered to hike. And, even pack a little picnic. You can find a spot under a tree, have a few snacks and enjoy a lovey view of the city from atop. You can explore areas like Baner Hills, Parvati Hills, Talzai Tekdi, ARAI Hills among others.
Shop To Cuddle Up & Read Together
The easiest way to know a person is to see what kind of books they read. And, if you feel like you've found the one, take them book shopping. You two can discuss your favourite authors, stories, which character you fell in love with and many such things. Obviously, the first choice here has to be Crossword bookstore. So head to their biggest store in Aundh.
Museum Hop Through The City
If the two of you geek out on history, Pune is the place for you to go on dates. The city is indeed filled with a number of museums of different kinds. The most famous one, Raja Dinkar Kelkar museum is a must visit. The museum has over 15000 collectibles and also a war zone. You must also check out Pune's first and only car museum.
Cycle Into The Sunset
Pune is known for its wide roads and easy connectivity. This provides cycling enthusiasts with a good track to explore the city on their bicycles. Growing on the phrase, "couples who workout together, stay together", cycling is indeed an understated date option. You can choose a road around town, but we suggest you explore the lanes and bylanes around F.C. Road. Or pick a cycling train and cycle in nature.
Camp Under The Stars
Around Pune, you will a number of camping spots. Each and every spot offers a romantic setting for you and your partner for some quiet and alone time. Go ahead, take your tents, some packed food, a thick blanket and lastly, a small speaker to slow dance under a sky full of stars. The perfect destination among other places would be Pawna Lake.
Comments