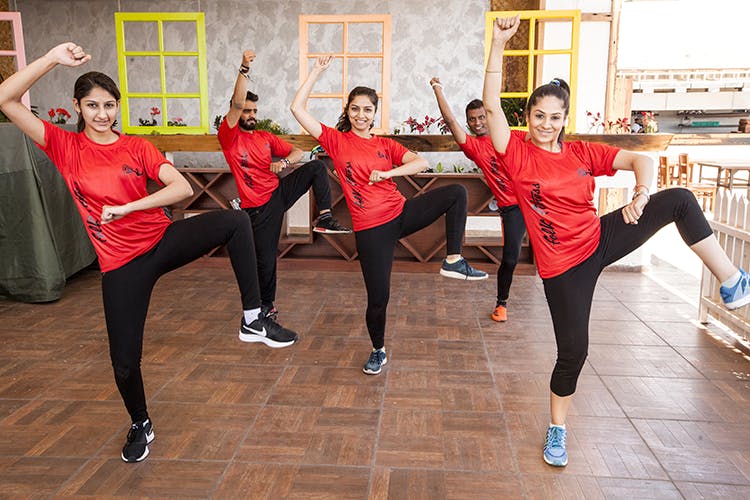 This Fitness Centre In NIBM Adds Bihu & Bhangra To Daily Workout Regime
Shortcut
Workouts can be boring and arduous at times! But what if your daily routine combines movements of a folk dance or two? The crew at Folk Fitness at NIBM combines the science of fitness management with traditional Indian dance forms that aim to attain a balance of mind, body and soul.
Tell Me More
Started by Aarti Pandey, Manoj Upreti and Ashwin Pandey, Folk Fitness infuses the culture of folk dance in all their fitness programs. The routines are scientifically tested, proven and copyrighted.
The classes are divided as – Folk Fitness Yuva, Folk Fitness Pranam and Folk Fitness Nanhe.
Fit for instructors, group exercise managers, studio owners and sports professionals, Folk Fitness Yuva is a full body workout comprising strengthening of cardio vascular, upper and lower body and the core. The sessions are inspired by traditional folk dance-forms blended with energetic music to develop a technique of high intensity regime.
Folk Fitness Pranam is low to medium intensity workout designed to improve overall endurance and flexibility of the body. Regular sessions help manage blood pressure, sugar levels, weight, bone and joint issues, breathing problems and stress. These sessions are great for your grandparents!
Folk Fitness Nanhe is designed for kids between the age bracket of five and 15. This workout regime is simple yet fun and also introduces children to the Indian folk culture. Fees for all courses start from INR 12,000 onwards.
So We're Saying
Ditch those old-school gyms. Head to Folk Fitness, add a little bit of bhangra and garba to your workout and burn that baby fat in style!
Comments