The information in this post might be outdated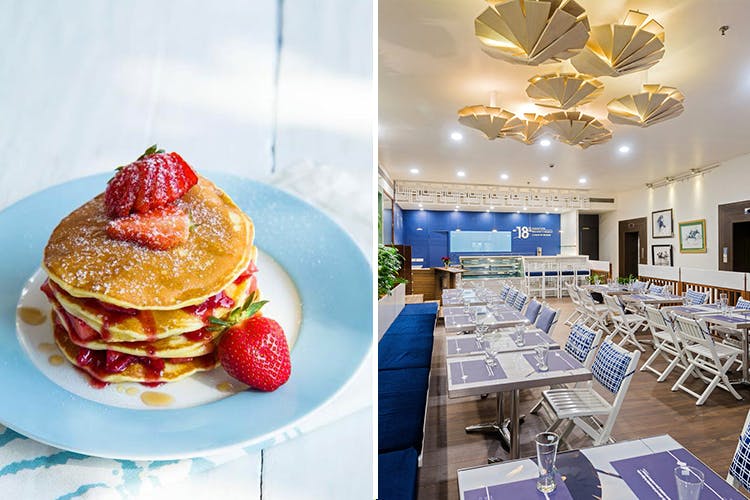 Linzer Torte To Danish Pastry: This Place Serves The Yummiest European Treats
Shortcut
Minus 18 Degrees is a bistro-patisserie (with emphasis on the patisserie) serving European food. Their meatless menu is quite extensive, but what they're most famous for are their decadent desserts.
Tell Me More
Located in Baner, this eatery offers both indoor and outdoor seating, with cool blue, grey, and white interiors and shiny glass-front pastry display counters. On their menu, you'll find all-day-breakfast goodies – sweet/savoury crepes, pancakes, and waffles; as well as soups, salads, sandwiches, burgers, paninis, pastas, hot and cold beverages, premium ice cream, and a wide variety of pastries and baked goods.
Choose from layered cakes, soft-centered chocolates, macarons, eclairs, cupcakes, croissants, etc. to satiate your sweet tooth. Try their delicate 'Classic French Opera' pastry, Austrian 'Linzertorte', their Danish pastry, waffles (with the topping of your choice), Chicago-style baked cheesecake, and was it all down with a rich cup of coffee. You can also order their cakes in advance, for special occasions and such. Prices here are a bit steeper than most bakeries, but the pastries make up for it with their quality and taste.
So, We're Saying...
We've heard that service here can be a bit slow – so keep that in mind when ordering. Their breads are also available for sale off-the-shelf, and we recommend buying them early on in the day to ensure maximum freshness.
Comments