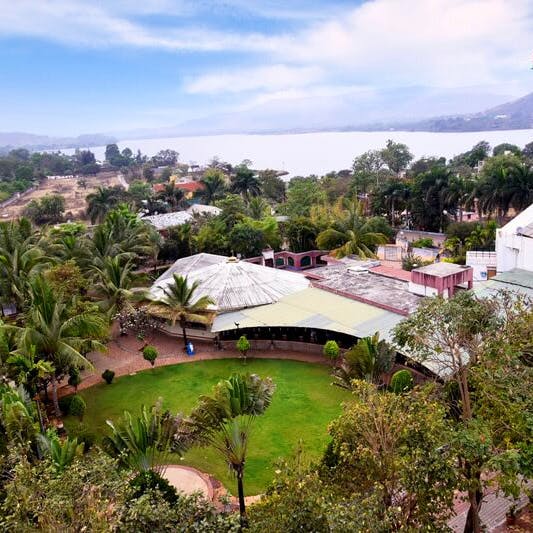 Snuggle Up At These 8 Cosy B&Bs For A Perfect Monsoon Getaway
Monsoon season is the best time to get away from the city - the countryside is lush with greenery, and you're away from all the traffic and noise of urban life. We've handpicked 5 perfect B&B spots outside Pune, where you can cosy up this monsoon season:
Nirvana Inn
Nirvana Inn is an instantly-likeable B&B nestled in the heart of the Sahyadris, just 3 hrs (130km) away from Pune. Their scenic valley-facing rooms provide a super comfy and romantic setting for a couples' weekend getaway, and their 9 rooms are themed after the 9 planets (all air-conditioned, except for one). Nature walks and treks can be organised nearby, and we think it's ideal for outdoor-aficionados, or people looking for some serious rest and relaxation. We've heard good things about their food, and also that you can also organise your own BBQ night and party by making arrangements with them beforehand.
Princess Vista
A combination of mountain and lake vistas landscaped gardens, charming interiors, as well as your own private infinity pool - Princess Vista is the perfect spot to host a group getaway. Located near Pawna Lake, the villa is an hour's drive from Lonavala market. They also have an outdoor pool deck and indoor games (even Karaoke) to keep you busy, as well as outdoor activities (boating, a bonfire) that can be arranged on prior booking. Read more about them, here.
#LBBTip: Certain house rules do apply (no non-veg food, no smoking indoors, and a compulsory security deposit), and the property rates are subject to change on weekends, so we recommend you check everything with the host beforehand.
Mawi Infinitty
Mawi Infinitty Villa is the gorgeous getaway of our dreams. Located at Kolechafesar on Pawna Lake, it's a 2.5 hr drive from Pune, and 45 minutes from Lonavala. Of the two villas, the upper villa faces Pawna lake and has a beautiful outdoor deck that overlooks the garden. The lower villa opens out onto the swimming pool (which is an infinity pool, FYI) and heated jacuzzi, with the other located below the swimming pool deck. Between the two villas, 14-16 guests can be accommodated (they have sofa-cum-beds), and you can either rent a room or the entire villa for yourself. Read more about them here.
Tooth Mountain Farms
Another charming getaway is Tooth Mountain Farms, located in Karjat. This boutique property has some of the most stunning rooms we've ever seen, as well as sprawling landscaped lawns, a natural man-made lake, plenty of indoor activities, and its own pool. Their 5 suite-style rooms can be booked individually, or for a total of 18 people. There's also an Art Village within walking distance, should you be able to tear yourself away from the comfort of this place. Read more about the property, here.
Seven Sands Ville
Seven Sands Ville is a 6-villa private vacation property, located just off Old Khandala Road in Lonavala. Surrounded by lush greenery and panoramic views – which are especially breathtaking in the monsoon season – some of the larger rooms here even have their own jacuzzis! If you're looking for a relaxing getaway outside the city, without the throngs of tourists – we think Seven Sands Ville would be ideal for you! During the week (Mon-Thu), Seven Sands Ville rents out rooms on a 1BHK (for maximum 4 people) or 2BHK (for maximum 6-8 people) basis, but on weekends you have to book an entire villa if you plan to stay here. Read more about this property, here.
SaffronStays' Rockside
Panchgani is definitely a favorite amongst all travel enthusiasts, especially during monsoon. Tucked in the middle of hills and waterfalls, Saffron Stay's Rockside is a luxurious bungalow perfect for weekend getaways. This serene 2-bedroom heritage villa, is also a part of UNESCO's world heritage site as it was formerly the home of the Nawab of Wai. A caretaker and a friendly four-legged pet comes with the house to keep you comfortable and entertained. You can also enjoy the views of the Kaas Plateau while basking in the warmth of a bonfire right outside the villa. While booking a package, don't forget to opt for the one with a complimentary breakfast.
Rutugandh Resort
If you are looking for a trip where you can enjoy trekking in the day and a luxurious stay at night, then Rutugandh Resort is for you! Located near Sinhagad Fort - one of the best trekking trails around Pune - Rutugadh offers pristine scenic views and luxurious rooms. After trekking the fort you can come back to the resort and enjoy some delicious vegetarian dishes while taking in the beauty of Sahyadri Ghats. Enjoy nature walks in the premises or take a dip in the outdoor pool, this resort will take care of all your vacation needs.
Meher Retreat
Looking for a quiet getaway with your partner? Or an adventurous one with your friends? Meher Retreat is the perfect destination for all! Located just 42 kms out of Pune, this resort is the perfect amalgamation of nature and luxury. Meher Retreat is spread over 27 acres of land offering several natural trails, bird watching and other outdoor activities. You can sit right outside your quaint little rooms and enjoy the monsoons with local snacks and beverages. If you are craving a break from the hustle bustle of the city then Meher Retreat is your perfect mood refresher!
Comments