The information in this post might be outdated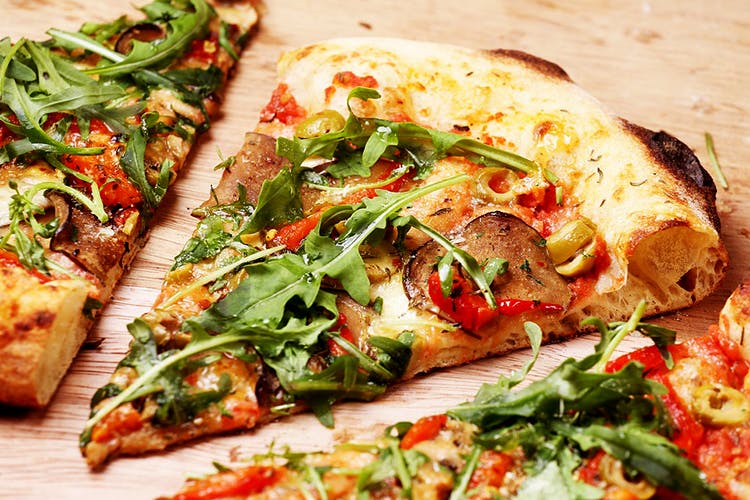 The Pizza From These Five Local Eateries Are Better Than Anything From A Big Chain!
Go beyond Dominoes; check out these amazing local places for pizza that will leave you craving for more.
Geo Bistro
If you are a pizza lover, you don't need an introduction to this spot. Try out the nutty veggies world for INR 290, layered with chipotle pesto, green onion, jalapeno, mushroom cherry and mozzarella, or the Mexican pizza for INR 390. Or you can try the double decker pizza with ground chicken and beans layered with flour tortilla pizza and green onion topped with tomato cheese.
Price: INR 950
The Urban Foundry
What do you want after a tiring day of practice or right after a match? This place will get you pizza and beer both and bonus: live screening of matches. So if you are a sports lover, you know where you should head to!
Price: INR 1500
La Terrazza
La Terrazza at Hyatt, is an Italian speciality restaurant, and the pizzas here are absolutely delicious. What's more? They hold the Limca Book of Records' title for making the largest pizza in the country.
Price: INR 1,200
Baked & Wired
Along with their 28″ monster pizzas, Baked and Wired does enough to feed a hungry family. In addition to pizzas, they do exceedingly good fresh pasta. In fact, all their pasta is hand-made and not shop bought.
Their spinach and ricotta ravioli in tomato sauce and mushroom tortellini are terrific. They also make their own linguine in cheese sauce. Pizza toppings are limited to three of each. Margarita, magic mushroom with shitake, button and oyster and the veggie mix. In non-vegetarian, you have roast chicken, barbecue chicken, a lovely fragrant lemon chicken and thyme and a pepperoni. The monster pizza is enough to feed 6 easily and therefore at an average of Rs 1,000 is pretty good value for money. Also available is garlic bread with their home baked bread and garlic bread with cheese. They support local cheese maker ABC farms.
Comments