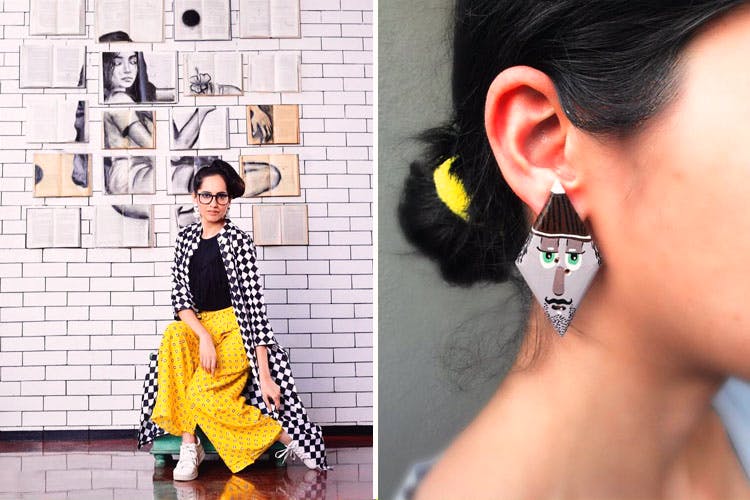 Quirk It Up With Cool Character Earrings From Ptaara
Shortcut
Add that oomph factor to your wardrobe with Ptaara's cotton attires with outlandish prints and funky little statement jewellery.
Tell Me More
Started in 2016, Ptaara by Aditi Gudda is a fashion label full of surprises, colors and radiance. A fusion of Indian textiles with handblock prints, Ptaara promotes the idea of effortless and comfortable fashion. Very young and bright, we are quite impressed with the brand's collection of summer dresses, checkered capes, semi-formal pants, jumpsuits and co-ord sets.
We can't take our eyes of this pop-art long dress with a sexy slit for INR 3,550. Made out of pure cotton, this beautiful number is very easy to wear and carry and is absolutely perfect for those brunch dates with the girlies.
This jaguar print co-ord set in turquoise is again on of our most favorite creations from Ptaara. Priced at INR 3.250, the high-waisted pants with the sleeveless halter top can turn million heads at a party.
Date night on a weekend? Play it cool with this earthy button down dress with soft floral prints for INR 3,550.
Let's talk about accessories now. If you're a fan of eccentric jewellery pieces, you MUST check Ptaara's range of character earrings, starting at INR 1,450. Our absolute favourite is this pair earrings in the shape of two angry little gentlemen. How cool is that?
Highly recommend you check out these pairs of grumpy owl earrings and shy mummy earrings. Fun, isn't it?
Loved what you saw? Buy your very own Ptaara from here. And, don't forget to follow them on Facebook.
So, We're Saying...
Funk it up like a real quirk-master with Ptaara's box of everything awesome!