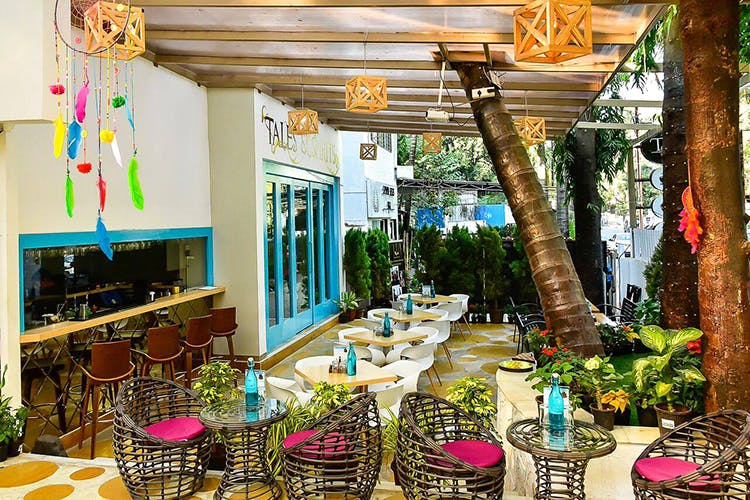 Got The Perfect Match On Tinder? Head To These Romantic Eateries For A Date That Makes An Impression
Ten-Second Takeaway
It's your first date, and you're jittery as hell. Can't exactly take your date to a dhaba now, can you? Check out these 10 beautiful places, that are perfect to help calm those nerves down and get the conversations going!
The Flour Works
Calm, breezy and light. That's the vibe that you get, as soon as you enter The Flour Works, a casual dining café, located at Kalyani Nagar. The look of the place is rustic, and it oozes class. The food served here is of supreme quality, and portion sizes are just right. A crowd favourite is their decadent hot chocolate – one sip, and it's like a chocolate volcano just erupted in your mouth! Well, you do know what they say about chocolate being an aphrodisiac! Slightly heavier on the pocket, but hey, first impressions are often the last, so why not?
#LBBTip: For a more intimate feel, request for a seat indoors, on the mezzanine floor. Makes the experience all the more personal!
Tales and Spirits Bistro
Airy, spaced out and bright, Tales and Spirits Bistro is located snugly at the end of Senapati Bapat Road. With a very young vibe, you're sure to feel a lot more relaxed and comfortable. What makes things even better is that the food here is impeccable. Their spaghetti aglio olio is one of the best we've had, and their jalapeno and mozzarella cigars are divine. A must-visit for those who appreciate Italian food!
Oh So Stoned
Move over traditional ice cream cones.. It's time to get stoned! An amalgamation of various toppings, and delicious ice cream flavours, the sundaes here are literally lip-smacking. A huge hit is their banoffee sundae. The ambience is super chill and has a happy vibe to it. We're sure you're hoping the date turns out to be perfect, so why not begin things on a sweet note?
Menchies
If your date is diet conscious, but still has a sweet tooth to satisfy, search no more! Menchies is the ultimate frozen yogurt destination. With flavours that change every three weeks, you make your own frozen yogurt cup, with any topping that you desire. And the best part.. you pay according to the weight of your cup. With all those bright and happy toppings on the yummiest yogurt around and a cute outdoor and indoor seating area, this is a great place to get to know each other.
Raasta Café
With chic interiors and dim lighting, Raasta Café won't let you wipe that smile off your face. With live music to keep you swaying, you can be certain the evening won't be a boring one. Dig into their karari roti, and add some spice to the date! If you're really hungry, order yourself some Jerk Chicken. You can thank us later.
Café ABC – Art, Books, Chai
A small little café, where you can sit and laze all day, Café ABC is perfect for dates at the end of the month. Easy on the pocket, and fantastic value for money. Perfect for the monsoons, dig into their cheesy Maggi, with a cup of steaming coffee or chocolate chai while indulging in some captivating conversations.
Café Mestizo
A cozy place for a casual brunch, Café Mestizo is warm and inviting. Their caramel frappe is on point, and their pizza is finger-lickin' good!! If you want to bring out your date's fun side, they have an option of creating your own pasta. The staff here is friendly, and service is prompt. You just can't complain!
The Earth Café
The Earth Café is the new kid on the block. Having opened up a mere three months ago, The Earth Café has hit the right chords, and how! A quaint café, that offers both indoor and outdoor seating, the ambience here is fresh and young. If your date likes sushi, well, this is where you need to go! Don't miss out on their perfectly brewed coffee.. After all, a lot can happen over coffee. What say?
11 East Street Café
Good food, great ambience, and music that speaks to the soul. The heart doesn't really desire much more. We recommend their bangers and mash for the non-vegetarians. Vegetarians, don't fret, they have kickass paneer tikka masala, too. We love their benches and go here for your date if fine dine isn't your thing.
Comments