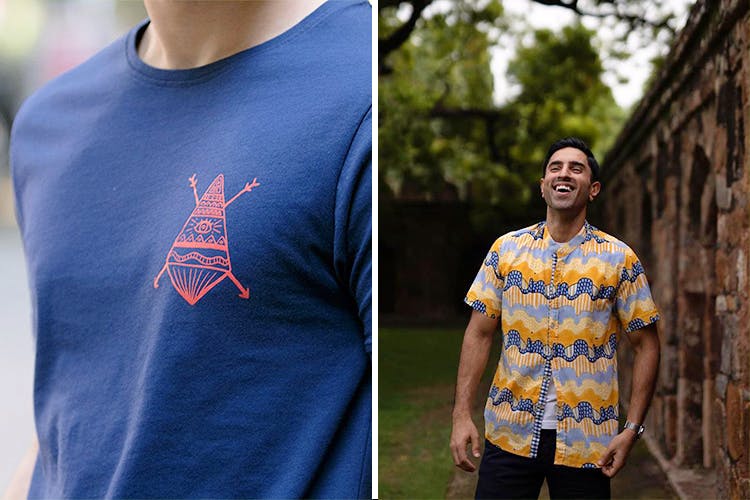 6 Places For Men To Buy Shirts & Tees In Pune That Aren't H&M
Shortcut
Shopping for menswear can be a task. Agreed there are several big brands in town, but honestly, don't they all look similar? And, is it even feasible (monetarily) to shop from H&M, Zara, etc all the time? So, here we are. Bringing you 5 brands for men that are different and worth every penny.
Outliers Clothing Co.
Started by Rohit Oswal and Tejas Shah, Outliers Clothing is a Pune-based brand for t-shirts made of organic cotton – dyed without the use of bleach or chemicals. Priced between INR 700 and INR 1,300, t-shirts for men are available in solo, polo, slubs, graphic printed and pocket style.

SheepStop
Yet another homegrown brand, SheepStop is all about vibrant colours and quirky prints. Men, must check out their collection of funky pop-culture, Bollywood and American-sitcom based cotton tees, starting at INR 599.

Trendosaurus
The brainchild of Sriparna Choudhury, Avinash Sadarangani and Apurva Jakka, Trendosaurus is an upcoming clothing brand in Pune that believes in eco-friendly fashion. Their collection of tees are 100% organic; which means the cotton plants that are used to make these t-shirts are free of any sort of pesticide or fertilizers. For men, the sizes range between S and XL and fit quite well.

Bombay Shirt Company
The best thing about Bombay Shirt Company is that you can choose from 300+ fabrics, thousands of buttons and threads and customise your entire shirt. What's more? They have recently added a home-visit feature where their master tailor visits your home and takes all your measurements. The shirts get delivered to your doorstep within 10-15 days.

Benoit
Benoit Fashion is a Pune based start-up with a brilliant collection of mens' shirts - formal, party, casual and everything in between. Starting at INR 600, we think this brand is great in terms of pricing, quality and variety.

Jodi
If you're looking for easy-breezy prints, spring colours and handsome silhouettes, JodiMan by Jodi is the place for you. Prices can be a tad steep, between INR 2,400 and INR 3,500. Having said that, we saw the collection and honestly, not complaining a bit.

Comments