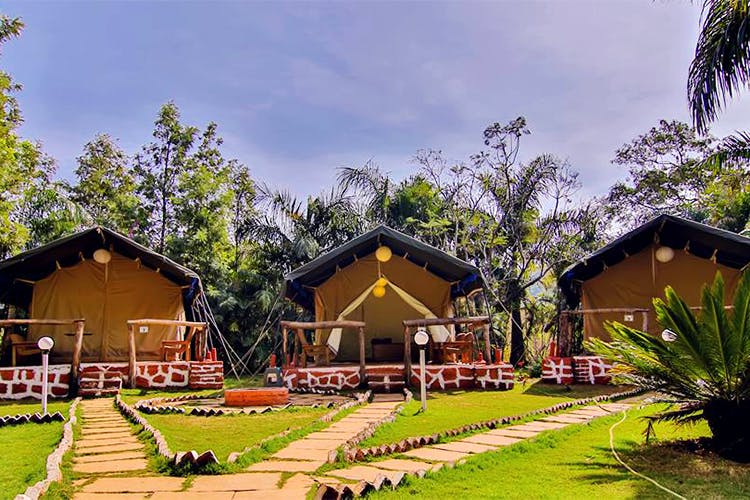 Plan A Perfect Weekend With Luxury Tents, Bonfires & BBQ At This Resort In Panchgani
What Is It?
Lapped amidst five hills of Panchgani, Sherbaug Theme Park and Luxury Tent Resort is a combination of everything awesome— a luxurious stay, multi-cuisine food, water park and cactus museum. If you're wondering about the pocket pinch, trust us, the price is extremely reasonable.
How Do I Get There?
Take a direct bus or a train to Panchgani. Then take the local transport to Sherbaug, Dhandeghar. If you're in a mood for a road trip, drive down directly to the resort. It's a two and a half hour drive from Pune. If you're traveling from Mumbai, it takes about four hours via Bangalore-Mumbai Highway. For a detailed route, click here.
Why Should I Go?
Sherbaug caters to all. If you're on a shoe-string budget, opt for a standard room. It's a compact bedroom-cum-balcony and is well-equipped with all the necessities- LED TV, king-size bed, bathtub and essential guest supplies. If you're on a romantic getaway with your partner, go for the Waterfall Room. It's a small cottage made on a top of a manmade waterfall. The balcony overlooks the valley. The real attraction of Sherbaug is their Luxury Chalet Tents. The total area of the tent is 200 square feet and is suitable for either couples or small families. A private bonfire, barbecue area and hammocks are provided individually and privately for all tents.
Anything Else?
If you're ready to shell out money, try out their Tree House. Built with wooden rafters, the quaint little house is built above the canopy of a tree.
Also On Sherbaug Theme Park & Luxury Tents
Comments