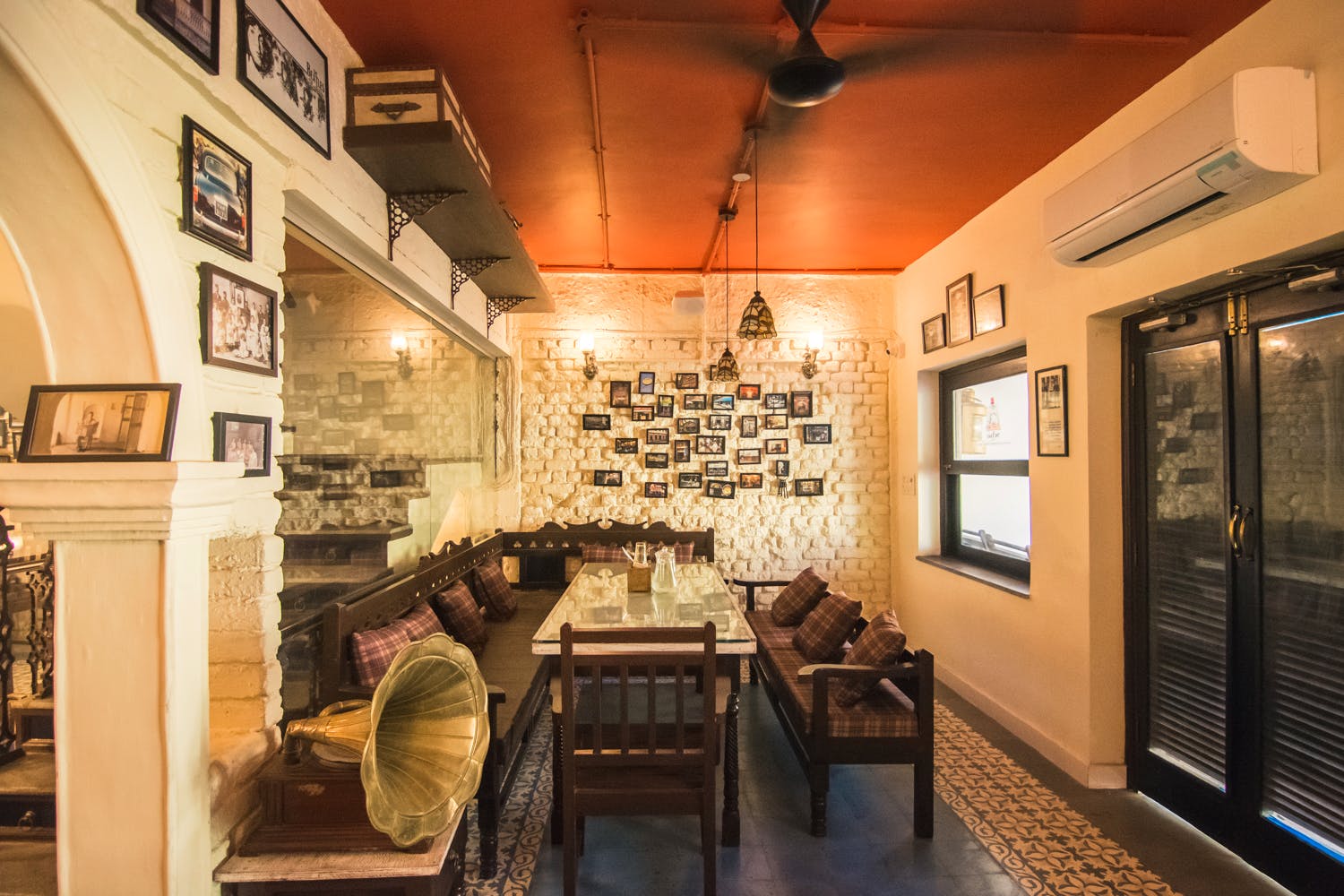 Pune's Newest Parsi Eatery Is A Treat For Sore Eyes
Shortcut
'The Bawa' (aks The Bawa Cafe) is a brand-spanking-new addition to the Viman Nagar restaurant scene. With a full-fledged menu ranging from all-day breakfast to proper Parsi bhonu – there's a lot of good food to choose from!
Tell Me More
Started by Yohann Doongaji, The Bawa is housed in a newly renovated old two-storey bungalow, just off Datta Mandir Chowk. The ground and first floor makes up the 65-seater restaurant, and the second floor is where Yohann lives. In fact, the big table on the first floor occupies the space that was once the master bedroom! The furniture is vintage, mostly wooden, with a few distressed contemporary pieces and wrought-iron tables and chairs in their outdoor section. The walls here caught our attention (and amusement), featuring hand-painted Parsi 'scenes', framed photos of Parsi celebrities, 'Bawatips', quotes, vintage photos, and quirky lists like '10 Reasons Why You Should Marry A Parsi'. There's even a 'sharing' bookshelf featuring Yohann's collection of vintage and modern books, which you can either borrow or swap with one of your own. The Bawa Cafe's ambience has a familiar, comfortable vibe – and we think it would be perfect for lazy Sunday lunches with your fam, or even a quiet date night with your partner. We're super excited that their menu is this extensive – it's authentic Parsi home-style food, with a couple of Iranian-Persian classics on there as well (like berry pulao). There are 17 types of eggs (we counted) served on their all-day breakfast menu, but our favourite by far is the 'akoori' (Parsi-style egg bhurji) served with soft buttered pav. From sandwiches, waffles, pancakes, to starters, mains, and beverages – there's plenty of veg, chicken, mutton, and seafood options. We ordered – and loved – the chicken farcha (Parsi-style fried chicken) and think you will, too. For refreshments, we sipped on the ginger-soda and classic raspberry-soda, which brought back fond childhood memories. Other dishes that caught our eye were 'Meroo's mutton cutlet pav', 'chicken sotiboti', jardaloo ma murgi' (chicken in apricot gravy), 'kid ghosht' (mutton in a rich white gravy), mutton berry pulao, prawn curry, and patra-ni-machi (chutney-coated steamed fish in a banana leaf). Keep in mind that dhansak will be served on Saturdays and Sundays only. Yohann's mother – Mrs. Anahita Doongaji – is their head Chef, so expect some seriously food-coma inducing, lip-smacking good grub!
Anything Else?
The Bawa Cafe previously existed in Nagpur but has since closed, and now Pune is their only active restaurant. They're barely a week old, and so will be introducing new additions to the menu like 'lagan nu bhonu' (wedding feast food), as well as events like speed dating and Sunday brunches – over the coming months. The food is moderately priced, and the portions are generous. A full bar menu will be launched as soon as they get their liquor license, so keep an eye out for updates on that. Jamva chalo, ji!
Comments