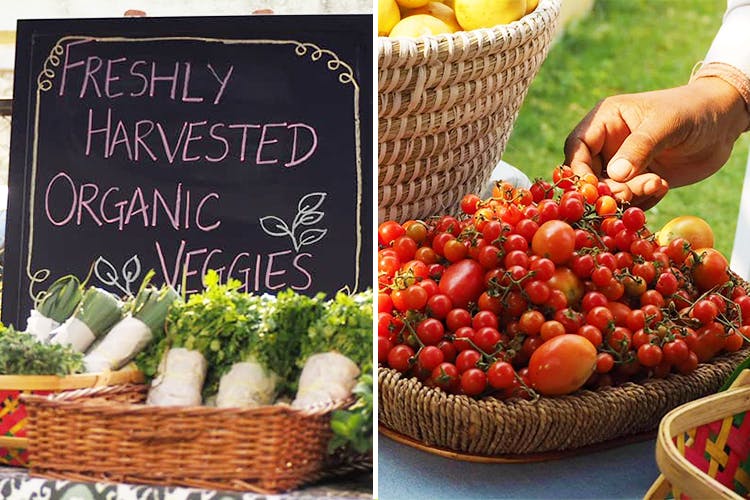 There Is A Conscious Community Market In Pune & You Should Know About It
Shortcut
The Conscious Community Market (fondly known as, 'The CoCo Market') was started with the intent of being a proper local market, having hand-picked local vendors selling a range of eco-friendly, sustainable, organic products. If you're looking to make the switch to a more sustainable lifestyle – we think this is the #1 place to help you do that.
Started by Tanya Kane and Surabhi Ganguly (aka The Wagabond Chefs), they found that cooking with and using organic/sustainable produce involved a lot of time spent sourcing these ingredients and things. They figured that in order to get people to make the switch to a more eco-friendly lifestyle, they would have to bring together both producers, and consumers – under one roof! The CoCo Market started in Pashan last June with hardly 12 vendors, and have grown so in-demand that they now host a second monthly market in Koregaon Park, with almost twice the number of stalls they started with! Surabhi tells us that changing your lifestyle is just a matter of finding and knowing your alternate sources. She and Tanya have personally curated the vendors themselves – some are farmers, some are aggregators, and some are producers who make and sell their own products – and you can be sure that everything here is sustainably grown/sourced. Eating organic or living a sustainable lifestyle doesn't mean cutting out the things you like – it simply means finding more natural/conscious alternatives! For example, you'll find beautiful hand-picked heirloom vegetables from Shashwat Organics; home-grown ghee, jaggery, and butter from Two Brothers Farms; natural-made curated cheese by The Cheese House; honey made locally from seasonal flowering plants (coriander, fennel, jamun, etc.) by 7 Seeds; organic sourdough bread made by The Wagabond Chefs themselves, as well as beauty products from Little Owlettes Cosmetics and much more. Not limited to food (organic groceries, pasta, grains, chemical-free dairy products, etc.) – there are also plenty of lifestyle products you can find here, like books, stationery, bags, hairbrushes, toothbrushes, cleaning supplies, and even vermi-compost and manure for your home garden!
Anything Else?
We recommend you carry your own cloth/re-usable shopping bags (or boxes) when visiting The CoCo Market. Hosted in Pashan (at Lifepro Fitness Club) every second Sunday of the month, and in Koregaon Park (at Monalisa Kalagram) on the third Sunday of the month – you can find their list of upcoming markets and events, via their Facebook page.
More Information
The CoCo Market By The Wagabond Chefs
Comments