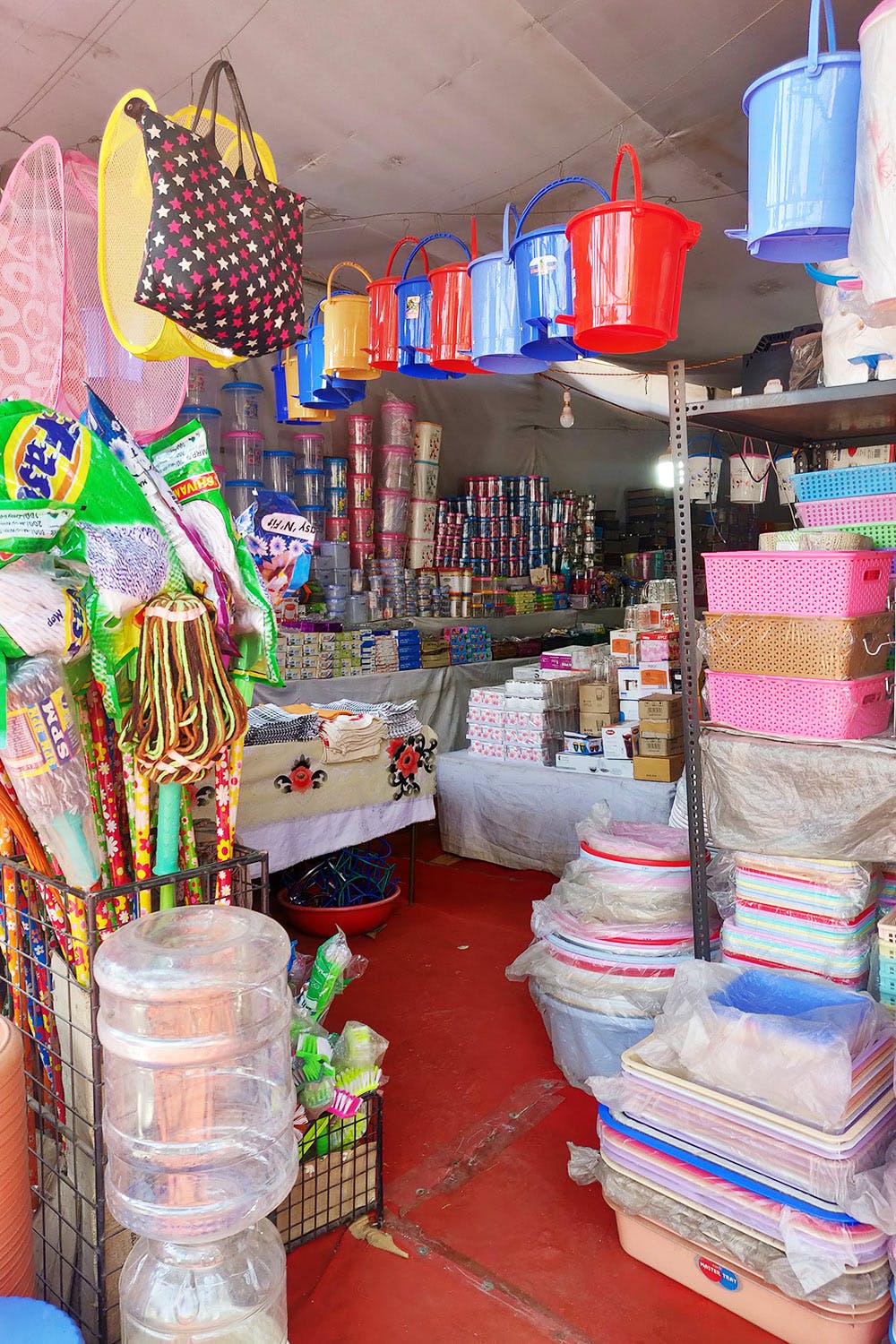 There's A Market In Dhanori That Does Daily Essentials And We've Got All The Details
From toiletries, curtains, glassware and plastic containers to all of your everyday commodities. If you'r setting up your home or just adding more to it, we found New Ghar Sansar Shop in Dhanori that has all your home essentials at really cheap prices. The prices were so cheap that we bought around ten commodities under INR 2000.
Plastic Containers
Something in your possession that even your mom will be happy about. At Ghar Sansar, you will find medium sized air-lock containers at INR 180. The best part is that they are going to last and are good to store your grains, pulses, snacks and other groceries. Also, you can send a picture to your mother and prove to her that you are taking the adult life seriously.

Toiletries
These guys have a whole bunch of the smallest yet important toiletries. You can find trays filled with tap faucets (the extensions added to taps which is made of rubber), fish-shaped soaps, toothbrush holders, scrub pads and more. These start from INR 20 only.
Bird-Shaped Fruit Pickers
We can totally say #ifoundawesome! These cute fruit pickers that we found were made of plastic and are thus reusable. What we really loved about them is that they were shaped like cute hummingbirds. If you are that person who takes hosting as seriously as Monica Geller, you need to possess these for that offbeat factor. And guess what? They cost only INR 70.
Popsicle Shapers
Summer is here and the wise will suggest you stock up on all the cool stuff. So, here's a popsicle shaper that makes your popsicle look perfect if the recipe is followed correctly. You can find a set of eight for INR 130.
Crystal Glasses
Fancy a nice glass of crystal for your drinks or want to impress your partner's parents with a dinner at home? Head to New Ghar Sansar to find some unique and good-quality glasses starting from INR 100. You can also get a set of three or six depending upon your budget. You can find whiskey glasses, cocktail glasses, beer glasses among many varieties.
Multi-Purpose Baskets
It always comes handy if you sort your things out. However, finding the right case or drawer is really difficult and hence when you need things, they go missing. But we've found the easiest way to organise your stuff with the multi-purpose baskets available at Ghar Sansar. You can get a set of three, each in different sizes for INR 260. These baskets can be used to organise your groceries or even your stationery.

Sippers
Carrying water in Pune summers is more of a basic necessity. We got some really cool sippers from this mart for INR 170 only. They can also be used as your protein shakers. Furthermore, the quotes printed on them also act as daily motivators.
Curtains
Get your share of privacy with curtains starting at INR 200. You can easily find window curtains (half length) and french window curtains here. They have a decent collection in good-quality materials. You can find printed as well as plain designs here.
Wine And Champagne Glasses
Fancied that wine goblet from which Cersie Lannister drinks her wine? We found a look alike! These fancy and antique looking goblets come in a set of six and cost only INR 400. Along with these glasses, we also found some really cool and classy champagne glasses for the same price.
Ceramic Jars
Has your mom sent you aachar, chutneys and other snacks? Store them all in these cute ceramic jars. These jars come in small and medium sizes. The best part about these jars is that they cost INR 50 only.