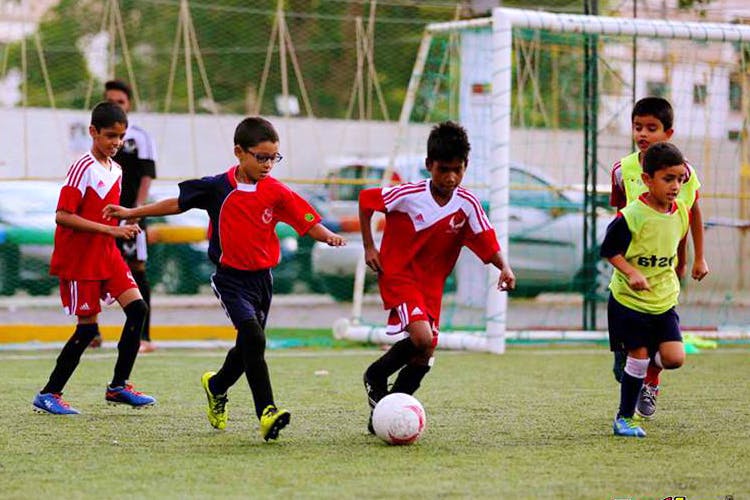 Football At 2 AM & Bangalore's Highest Zip Line: Get Your Adrenaline Rush At 24/7-Open Active Arena
Shortcut
Open 24/7, Active Arena in Marathahalli is for all you adrenaline junkies out there with its wide array of adventure and adrenaline-pumping activities that you can do any time of the day.
24/7 Adrenaline Action
Spread over two acres, Active Arena is a hub for all kinds of outdoor, indoor, and adventure activities. Just opposite Prestige Tech Park, you will need to use Google Maps to reach the exact location. We accidentally discovered this place during one of our assignments in that side of the town and boy we were rather intrigued by how they have set up the massive two-acre arena. Starting with the adventure course that comes with three levels of difficulty and multiple rope courses and obstacle courses to the indoor area that houses everything from VR games to kids' play area, it's a place that's perfect for fam-jams, squads, and even those corporate team outings.
Activities Arena
The football field with its astroturf and 5-a-side, 7-a-side, and 9-a-side set up was an instant hit with us mainly because we are hugely biased towards the beautiful game and we never waste a chance to wear our colours and score some goals. Between the hard court basketball area that also doubles up as a place for archery and the football field is the outdoor paintball area with its obstacle-laden course. From the layout, we definitely know there's going to be a lot of movement and the chances for you to shoot or be shot at are high.
But perhaps what caught our eye from the football field and the paintball park was what is touted as Bangalore's longest and highest outdoor zip-line course. Some 40-feet high and 100 meters long, the zip line is the perfect adrenaline-booster activity in the whole arena. Not for the faint hearted, but we can tell you that there are enough and more safety harnesses and equipment available to ensure you have an exhilarating yet safe adrenaline rush.
Get Smashing And Hitting
Volleyball, throwball, and badminton are the other staple yet fun activities that you can do to get your heart racing. They are planning to open Laser Tag arena soon, but for now, you can enjoy the VR simulator games, indoor cricket practice nets, table tennis, foosball, snooker, and shooting.
Putting A Price On Adventure
The rates at the arena are quite pocket-friendly. For instance, the weekday rate for a 5-a-side football pitch in INR 1,200, which works out to INR 120 per person. One round on the zip line costs you INR 500 while 10 shots at archery costs INR 150. The weekend prices are different, but not so much that you'll have to shell out a bomb.
These guys also offer coaching services as well and in case you are looking to improve your game or even play the game in the right way without burning yourself out, you can avail the services for additional fees.
Comments