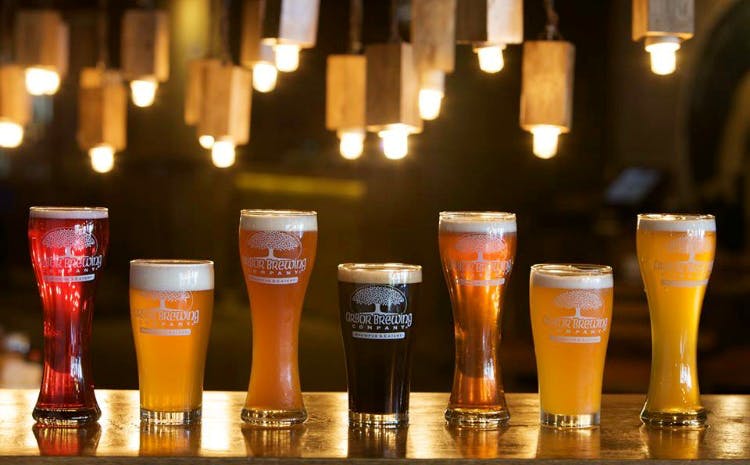 Arbor Brewing Company Takes The Craft of Beer Making To New Levels
Eat
Mac 'n'Cheese and Drunken Chicken
Drink
Irish Stout and Smooth Criminal
Winning for
Craft beer, pub grub, 90s music and chilled out vibes
Feeling hoppy
While Arbor Brewing Company (ABC) has plenty to offer in terms of alcohol (wine, spirits and even a selection of Mad Men cocktails), it's really your folly if you don't have beer here. Start off with the Smooth Criminal, a delightful honey lavender which like it's name suggests, goes down super smoothly. The Belgian style Phat Abbot is splendid for the seasoned drinker, if you like German beer, you'll fall in love with the No Parking Pilsner – clear, golden and hoppy enough to burst with flavour. Currently also on tap is the Holiday Stout and our favourite, Irish Stout dark and with hints of coffee and caramel. For a lighter beer, pick the Raging Elephant an IPA (Indian Pale Ale).
Starting out
Beer Batter Onion Rings, Sweet Potato Fries and Nachos are recommended for vegetarians. For meat eaters, look no further than Calamari Rings, Drunken Chicken (in a dreamy Bourbon sauce) or even the Brandied Beef Steak. Okay, we'll stop with the alcohol now, but only because we got distracted by Cajun Spiced Cheesy Fries with bacon.
Digging in
Ordering any burger (we favour the beef Arbor-ger, the Mediterannean Lamb and the Black Bean ones) or pizzas (try I Like To Party – it's loaded with pepperoni, ham, bacon, sausage and cheese) will mean you are on the right track. But the Mac 'n' Cheese is our favourite. Make sure to end with Boozie Sundae – fudge brownie topped off with Kahlua mousse, chocolate sauce and vanilla ice cream.
The DL on ambience
An industrial set up, afternoons here are lovely for dates, but come evening, it's all about 90s music and vibes that take you back to the old school Bangalore filled with beer, banter and rock.
So we're thinking…
Forget everything else, and just make beer your main beverage here. It's a great place to chill out and even watch games, so make sure a casual yet super fun night (or day!).
Where: 8, Magrath Road
When: Sunday-Thursday from noon-11.30pm, Friday and Saturday from noon-1am
Contact: 8050144477
Price: INR 1,200 for two
Find them on Facebook here.
Check out their website here.
More Information
Arbor Brewing Company
Nearest Metro Station: Trinity