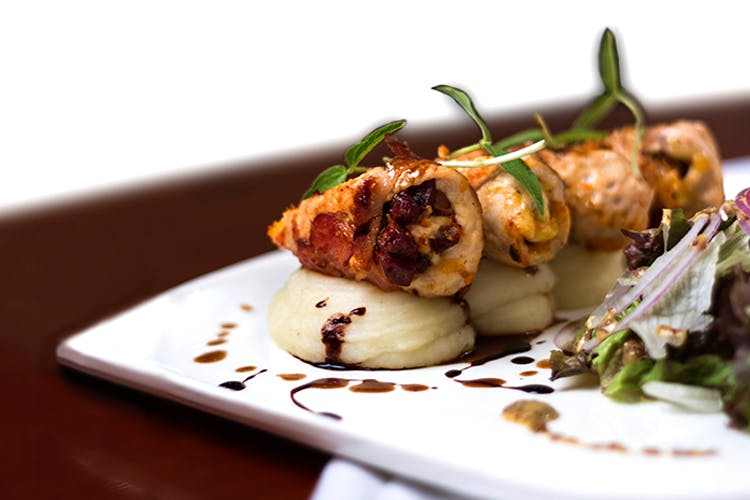 12 Eateries In Bangalore That Love Bacon As Much As We Do
The legion of people who love bacon is only growing each year. And rightfully so. However, it's a bit tiresome to just have it on the side of your plate during an English Breakfast or limply hanging on to a few prawns. Bacon deserves better than that. And thankfully restaurants and cafes in the city seem to agree. LBB finds the places in the city where you indulge in bacon worship.
Toit
One of their bestsellers on the appetisers list, the Cheesy Potato Skins with Bacon is just the thing to perk you up. While they have a vegetarian version, we recommend that you stick with cheese-oozing, potato skins with shimmering specks of bacon on them.
The Black Rabbit
Gooey cheese wrapped in perfectly grilled slivers of bacon, spiced up with a chilli relish. The Bacon and Cheese Bombs at this restaurant ticks off all the right flavour boxes, we must say. Also on the menu is the TBR Nasty where you get bacon sitting on top of two beef patties, cheddar, Arugula, caramelised onions and mustard mayonnaise relish.
SodaBottleOpenerWala
Bacon. Keema. Macaroni – three words that will still your beating heart. Arriving in a pan, the macaroni drizzled with a robust, tomato-based sauce is only made way better with the presence of the bacon.
Arbor Brewing Company
No one can ever go wrong with a plate heaped with fries soaked up in cheese, topped with beef chilli and bacon, and crowned with sour cream. We mean, no one. Do try the Chilli Cheese Bacon Fries at this brewery to agree with us.
Social
You know mankind has evolved by giant leaps and strides when you get bacon for dessert. At Social, you can finish up your meal with a Peanut Butter Jelly Sandwich that's wrapped up in bacon before being deep fried and served with Vanilla Ice Cream.
Bundar
There are plenty of odes to bacon on this restaurant's menu. But it is the WTF Pav that deserves our curiosity. It is made of Bacon, Nutella and Pav. Go figure!
Olive Beach
The aptly named Three Little Pigs is a feast of sorts. You get slow-cooked trotter pie, glazed pork belly and a housemade bacon wrapped sausage patty. To this mouth-watering trio, they add braised red cabbage, sweet onion apple chutney, caramelized cauliflower, and honey mustard sauce. Have you heard the flavour bombs go off yet?
Onesta
Their list of pizza toppings includes Bacon and Prawns, Bacon and Eggs, Bacon and Tomato, but it is their Bacon and Lemony Cream Cheese that gets our vote and attention. Lemon cream cheese with a garlic infusion, flavoured with basil, drizzled with bacon. That's the stufff dreams are made of.
Plan B
There are only a handful of other places that feature pork as much as they do. And they do a stellar job of it. Chug down mugs of beer and eat up Cheesy Garlic Fries, bacon wrapped sausages and crispy bacon (cause who needs much else).
Smoke House Deli
Head straight for The Baconator at Smoke House. In between the buns, you'll find a tenderloin patty that snuggles inside slivers of bacon before being smeared with baconnaise (genius!) and mustard.
Sunny's
It's their creamy Pasta Carbonara that brings in the bacon lovers and keeps them coming back. Long strands of spaghetti come doused in a rich sauce and speckles of bacon. Yum!
Comments