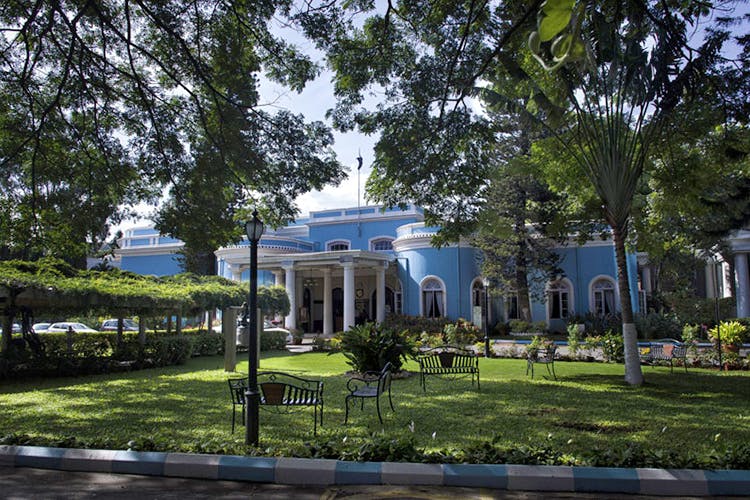 Sports, Parties And 150 Years Of History: Make A Friend Who's A Member At Bangalore Club
Shortcut
One of the oldest, and arguably the finest clubs in the country, you've got to make friends with at least one Bangalore Club member to enjoy benefits of this 150-year-old institution!
What Makes It Awesome
Before you get ahead of yourself, this is a strictly, members-only club. And if you think you can be a member overnight, think again. And think for about 20 years, because that is how long it will take (if not more) to become a member at this prestigious club. Started back in 1868, this space was originally thronged by the British, and perhaps still has some of the rules from the Colonial age in place. In addition, of course, to the gorgeous building that now serves as the clubhouse.
Spread across the few acres, Bangalore Club has tennis, badminton and squash courts, as well as a basketball court for the sporty folks who like the great outdoors. These too need you to be a member to use, so latch onto someone who already does play these sports so once in a while you can tag along to enjoy a game or two. There's also a gym, swimming pool, and spa but using those facilities is much more limited, even if you have friends in high places! They even have rooms, so pester that pal to put you up in one, the next time you're visiting. Or just for a staycation.
There is a lawn space which allows guests to sit at, as long as a member is with you at all times, and signs you in for a fee. If you already have a pal who's part of this club (or you are a member yourself!), you'll know that the Sports Bar is a fine place to chill out at. Open air, with a small indoor space, it's the ideal spot to unwind with a game of snooker and Fußball. Currently, Smally's has set up shop for food so feast on burgers and steaks here. Mostly, however, you make club friends for the subsidised alcohol. With a few bars dotting the vast space, most members and dependent members (the only folks who can sign you in!), hit the club for a round or two of drinkies, and that is when you need to tag along!
Be sure to clear your debts though. You don't want to go down in history like Winston Churchill who owed the club INR 13. It has since been written off as "irrecoverable debt"!
Pro-Tip
If you think you can sneak in without signing up, you're in trouble. Or if you break the dress code. In addition to being blacklisted, you really won't be able to eat or drink anything as all payment in the club is done through cards linked to member cards. Swanky!

More Information
Bangalore Club
Nearest Metro Station: M.G. Road
Comments