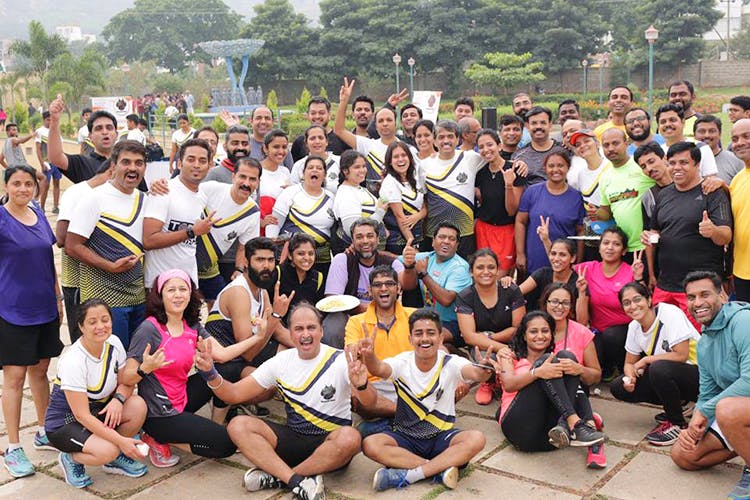 Start Your #FitnessGoals By Running With One Of Bangalore's Oldest Runners' Groups
Shortcut
Almost a decade old and based out of Jayanagar, this running group is all about making fitness fun. All you Jesse Owenses and P.T Ushas, say hello to Jayanagar Jaguars.
What Makes It Awesome
Jayanagar Jaguars (JJ) was started nearly a decade ago by Coach Pramod Deshpande along with a couple of friends when the buzz around running wasn't at all as big as it is now. Fast forward 10 years, and you've got yourself what is arguably Bangalore's oldest and biggest running group. Ultra-marathoners, marathoners, half marathoners, and an ever-growing crop of new runners are what make up the Jaguars' 500-odd member running group. Now, if that isn't giving you a serious urge to take up running right away, nothing will. Oh wait… their structured running programs that are suitable for anyone from a novice (read this writer) to a seasoned runner. Ah ha, now we're talking!
Their flagship programs such as the Run 2 Fitness (R2F) and Run Your First Marathon (RYFM) are what will get you excited. The R2F program is the beginner level program and that's what you should be looking at if you are considering achieving your fitness goals through running. It will make you transition from couch potato to runner smooth and swift. If you're not a noob, there are plenty of levels and programs for you to choose from — 10K, half marathons, full marathons, and even ultramarathons.
Now, any serious runner will tell you that you need to have a structured programme if you are considering taking up running as a serious activity. The Jaguars are all about that and more. Their programme also includes an in-house sports doctor, a sports nutritionist, and sports masseuse. That essentially means that you won't be just following a running schedule but also working on your diet, your fitness levels, and your progress rate.
Pro-Tip
While the programmes run (see what we did there!) are all year round, it's split into three seasons to coincide with running events. The winter season starts in October and it's on till February. The summer season is from March to May and June to October are programmed around the TCS World 10K Marathon and the Bangalore Marathon respectively. You can either sign up for one season or go for all seasons. They also operate from Vijaynagar, Hebbal, Indiranagar, Kanakpura, HSR, and Whitefield.

Comments