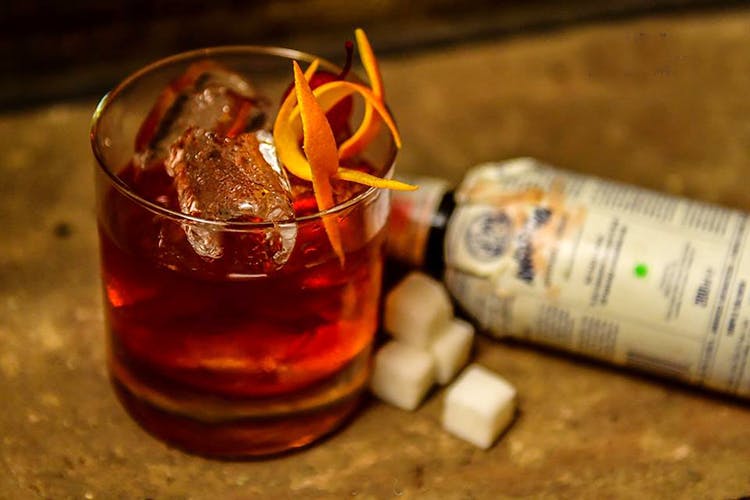 Pray For The Market To Crash And Get Your Drinks For Cheap At These Bar Stock Exchanges In The City
We're always looking for new places and concepts to up our drinking game. And what better than to go to a bar stock exchange. The more in demand, the more you pay. So you have to order strategically and carefully, to get that deal. Here's our guide to some of the best bar stock exchanges in Bangalore.
Tipsy Bull - The Bar Exchange
Tipsy Bull was one of the first bar stock exchanges in the city, and the outlets in Bangalore are quite the spot to hang out and party. First of all, you order alcohol through the app, which might sometimes be a bit tricky if you've to download it on the spot. This is the only time you wait for the market to crash, as then you get drinks at their lowest prices and it's open season. Tipsy Bull is in two locations in the city, Indiranagar and Bellandur. They've got some good food on the menu too, and some sharing plates including the nachos and chip and dip baskets.
Agent Jack's Bar
This is more a bargaining bar than a stock exchange. You have to compete and quote the best prices to "Agent Jack" who will then approve of your price and you might get it at cheap. Or you might not. And you're competing with a bar filled with people, so you better bring your best game. After all, the prize is your drink. Need we say more? You can quote prices between a set price bracket that is decided by the Agent Jack's app. They also have continental food and bar bites here and you must try their pizzas, the Spicy Chicken Pizza or the Chicken Tikka Pizza.
Hammered - The Bar Stock Exchange
Hammered – The Bar Stock Exchange on BEL Road is the only such bar on the North side of Bangalore. Here, you can get alcohol for as cheap as INR 52. Along with the bar stock exchange concept, they also have some offers including a special menu that has dishes at INR 99, from 11am to 5pm everyday. They also have beer offers at INR 49 for a mug, from 11am to 5pm everyday. There's also the regular bar bites in terms of food, but there's also a Chicken Sukka Gol Gappa, which sounds really cool.
52 Wall Street, Koramangala
52 Wall Street is a trader bar in Koramangala that is known for its seven LIITs and your snacks in scooters! The bar has a nice quirky ambience and this is something for people of all ages. This is one of Koramangala's first trader bars and walking in you can get a seat on one of the sofas, order a nice cool drink and enjoy the comfort with a nice scooter plate of onion rings and a serving of the Wall Street Buffalo Wings as well.
Punjabi By Nature - Bar Exchange
A recent addition to the divine food and drinks at Punjabi By Nature, the Bar Exchange works on an app, of course. Like in a real stock exchange, the price of drinks go up and down, based on demand and supply. It's been designed to look like a real sock exchange with huge LCD screen, LED tickets and the gong going off when markets peak, and then is reset to base prices. Doesn't get better than eating Malai Kebab and trading away for drinks!
Comments