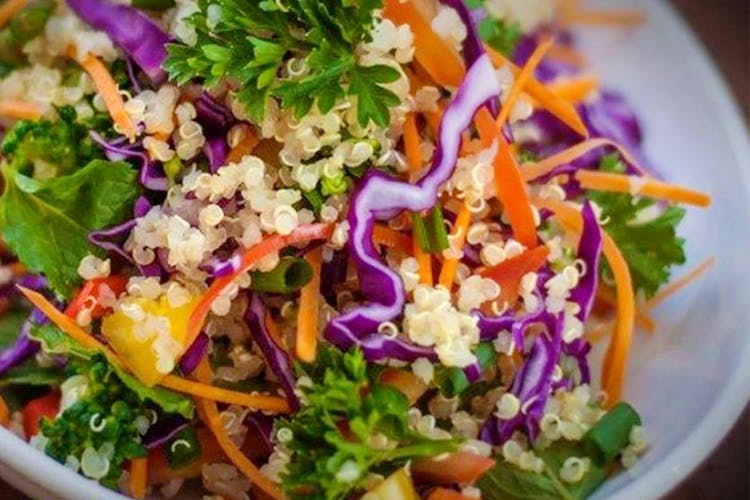 Spicy Beef, Green Papaya, And Detox Quinoa: Graze On Delicious Salads In Indiranagar
Salads are probably the most ignored occupants of a menu. And we simply don't get why! Especially if you are eating out in Bengaluru, you'll notice that restaurants make plenty of effort with their salad offerings. So, this year if you are embracing healthy eating, we recommend that you don't give the good old salad a miss. Restaurants and cafes in Indiranagar, in particular, use ingredients like spicy beef, bacon, pears, oranges, and plenty of feta to ensure you polish off your salad bowl.
LBB's Loving
Phobidden Fruit
Reader's Vote
Smoke House Deli
The Fatty Bao
Like with the rest of their menu, the salad section at this hip restaurant is peppered with interesting flavours too. Dig your fork into the deliciously sour Green Mango & Papaya Salad. It comes dressed up in honey, slivers of chilli, cherry tomatoes, and the crunch of peanuts. We also love the Spicy Beef Salad – where thin strips of seared meat mingles effortlessly with a cucumber, lettuce, and mint dressing that comes with a hit of chilli.
The Grub Hub
Easy on the pocket, The Grub Hub offers a breezy cafe menu that includes a bunch of delicious salads. There's the usual Caesar Salad and also the tried and tested Watermelon & Feta combination. But if you want to put an interesting spin to your meal, go for the Pork-U-Pine creation where slices of ham rubs shoulders with juicy bits of pineapple. The balsamic reduction sure does tie the dish together. Veggie lovers can go for the Chickpea Salad that includes, well, chickpeas, cherry tomatoes, and cucumber. The bits of feta add creaminess to the dish.
Smoke House Deli
Salads sure do go gourmet at this spiffy restaurant. If you are looking for healthy options do go with the salads that come with the superfoods tag. The Bean Sprout and Crispy Quinoa with Brown Rice Flakes works splendidly. And so does the Kefir Soaked Chicken that's accompanied by organic red rice and brown rice flakes. If you are going easy on yourself, however, the Pear, Mango Emulsion and Flax Seeds combo is a top pick. The simple yet delicious Asparagus and Grape Salad too wins hearts.
Cafe Max
This buzzing, rooftop cafe lines up no-frill salads that are packed with flavour. We recommend you skip the often-seen Caesar and Greek salads and instead choose the more exciting picks. The Spinach and Orange that come speckled with warm, toasted almonds make for a delicious eat. You can't go wrong with the Arugula & Pear pairing too. The parmesan shavings and the light lemon dressing on this one make it a winner.
Phobidden Fruit
The refreshing Green Papaya Salad, at this Vietnamese restaurant, that's done up in a tangy dressing has been a crowd favourite for a long time. Along with this, we recommend you wolf down the Hoi An Chicken Salad — where grilled meat, bean sprouts, and shredded vegetables come together to make a dish as light as air. The garnish of peanuts, fried shallots, and the sweet and spicy dressing add plenty of flavour to the salad.
Chefkraft
Looking for a healthy and filling meal that's packed with yumminess? Chefkraft will help you out! The Detox Quinoa Salad that comes with a simple lemon vinaigrette is a great pick. If you'd like an extra dose of protein, go with the Chicken, Mushroom and Chickpea Salad. For those of you who are looking for more exciting options, the Teriyaki Noodle Salad will work perfectly. You'll also dig the Mexican Crunchy Tortilla Salad. You can either order in from their delivery service or even pay a visit to their cafe. 
The Mad Teapot Cafe
Inspired by Enid Blyton's enchanting tales, the salad section at this cafe is infused with fresh flavours. Do try the Enchanted Forest Salad that comes with juicy segments of orange, rocket, and bits of feta that are dressed up in a honey and lemon mixture. If you are looking for something that will fill you up, sign up for the Forest of Pumpkin Blossoms. It features roasted pieces of pumpkin along with arugula, beans, sun-dried tomatoes, feta, and a balsamic dressing.
The Black Rabbit
For when you don't want to stuff your face with their gigantic burgers, the salad menu will fit in perfectly. If you are looking to stick to the veggies, then, go for the simple Grilled Tofu Salad that'a made exciting with a carrot and pomegranate reduction. Or the Hay Stack Salad that piles on lettuce, corn, kidney beans, cherry tomatoes, and American cheddar. If you like things fishy, however, go for the Smoked Salmon Salad where the fish is covered in onions, cherry tomatoes, mustard cress, pea shoots, and dill.
Monkey Bar
Want to balance out all the calories in the booze with fresh salads? Monkey Bar totally gets you! Scout their Soup & Salads section for picks like the Beet & Orange. It comes with salted cubes of beetroot, candied walnuts, and orange segments that are drizzled with a date-coriander vinaigrette and feta. The TLC too is an excellent offering and features iceberg lettuce, cucumber, corn, and delicious garlic croutons in a lemon-coriander dressing. Feta and oregano complete the dish.
Comments