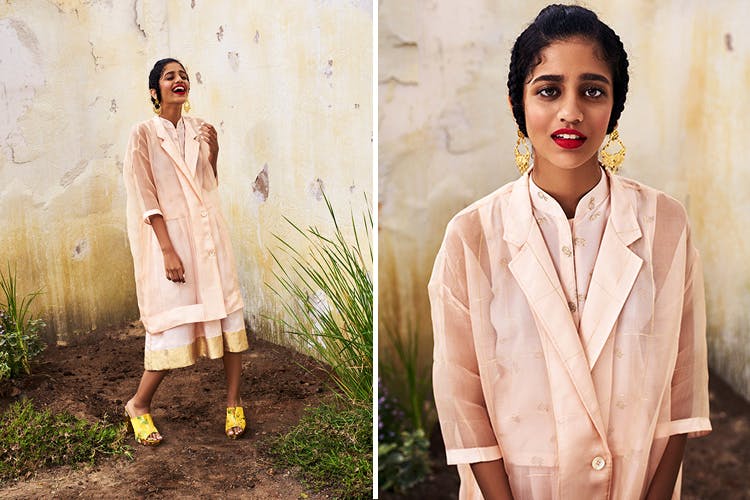 Nearest Metro Station:

Lalbagh
Ladies, You'll Love These Classic Yet Contemporary Outfits, Created By Designer Latha Puttanna
Shortcut
Half of Bangalore is a fan of Latha Puttanna's blouse and sari creations, but now, for the the first time the separates brand, Brand Latha, will be available at the flagship store in Jayanagar.
Switch It Up
Love to mix and match your outfits? If you vigorously nodded yes, then surely you know of Brand Latha? If not, you must make this brand your BFF. From the House of Latha Puttanna, (yes the one that makes dreamy lehengas, saris and blouses), Brand Latha is all about giving you options. As regal and elegant as the Latha Puttanna outfits are, this more edgy yet timeless sister-concern gives you separates that can easily be paired with different things. See, you don't need to buy a new outfit all the time, just be smart and buy pieces that you can mix and match. And the best part? Brand Latha is now going to be available at the flagship store in Jayanagar. It all kicks off on June 29 and June 30, from 10am to 7pm. We can't wait to check out the new collection, Wonder Years, which celebrates the dainty, playful, and effortlessly stylish women of yesteryears — notably the designer's own mother. It collection is marked by light, earthy colours and feminine fabrics like silk and organza. Plus, designs that are flowy yet functional.
Quality Classics
The whole ideology of Brand Latha is to develop essential separates that can be paired to create multiple ensembles, and if you're the sort who likes understated fashion, you'll be thrilled. We stalk them on Instagram, and love the blush crepe blouse with gold tile jacquard, that also has a lovely skirt made from georgette silk. While these match perfectly, you can switch it up with similarly styles haldi yellow ensemble. Or pick up the delicate organza jacket to add edge to any outfit. Most of the patterns, prints and styles are inspired by old Bangalore, and the heritage of Karnataka, so expect to see outfits, that will remind you of your grandmother's sari, but with a modern twist to it! Some of the motifs that stand out are the roses and pine cones, as well as the two-headed eagle Gandaberunda, symbol of the Mysore royals. What we love most is that the separates are timeless, though contemporary. And we all know that classics are the best! Set GPS to South Bangalore, y'all!
Comments
Nearest Metro Station:

Lalbagh