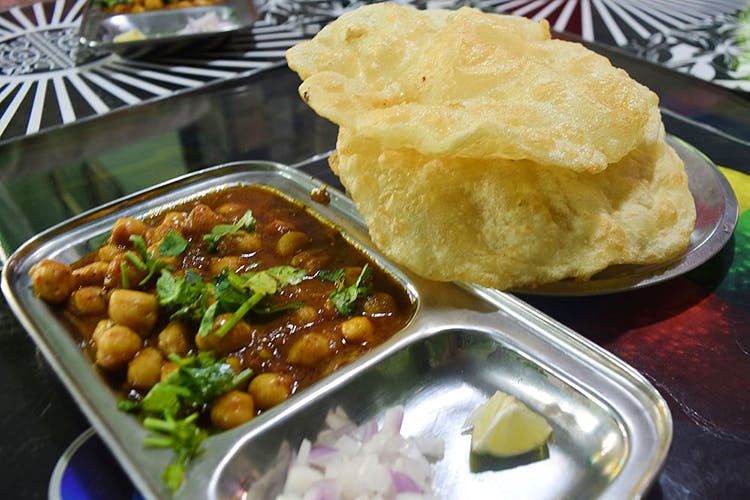 The Sunday Chole Bhature At This Mithai Shop In Indiranagar Is So Lit That You Need To Pre-Order It
Shortcut
If you love chole bhature, then you need to try the chole bhature at Kartik's Mithai Shoppe in Indiranagar. It's only served on Sunday and don't even bother trying to walk in and expect to get a plate. Pre-order and you can have as many as you want.
What Makes It Awesome
Served only on Sundays between 9am and 11.30am, Kartik's Chole Bhature is #BreakfastGoals. But to get your plate, you'll need to pre-order it. When we checked out the place on a Sunday, we could see patrons happily eating away their pre-ordered plate of breakfast goodness, leaving us wondering why we didn't order ours. How to pre-order you ask? Simply call the shop on Saturday and not any other day, and mention your name and how many plates you would be needing. Set a reminder if you are forgetful like us.
Puffy puris are served a thick, spicy chole gravy with sides of spicy aloo fry and fried green chillis. We have already called and ordered a plate for ourselves for this Sunday. What are you waiting for? Apart from the Chole Bhature, being a sweet shop, this place packs all kinds of Indian sweets you can think along with savoury snacks ranging from mixtures to sevs. In the evenings, chaat counter is set up that serves everything from Samosa Chaat to Bhel Puri. We swear by the spicy chaat any day — our other 4 pm snack when momos are not available.
Pro-Tip
You can call Kartik Mithai Shoppe on either 080-4124 1666 or 080 4126 4166 to place your order. Remember, only on Saturdays guys.

More Information
Kartik's Mithai Shoppe
Nearest Metro Station: Indiranagar
Comments