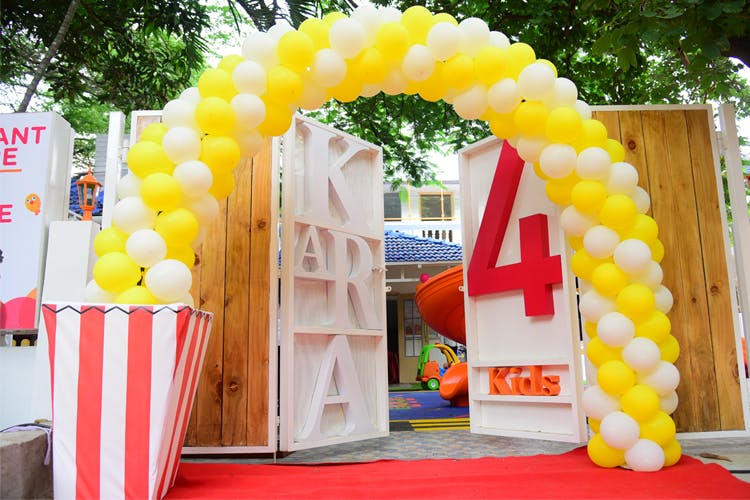 Confused About Your Toddler's Schooling? Fret No More, Check Out This Preschool and Day Care Which Meets Your Checklist
Shortcut
Are you a first-time parent who is confused about which preschool to send your little one to? Deciding where your toddler should take their first learning steps is a huge decision to make and we're here to make it easier for you. Kara4kids, which has over 12 years of experience in dealing with children and helping them grow, is a group of premium preschools and day care that assures a safe and sound environment. They cater to preschooling of your child, infant care, day care, and those with special needs.. Kara also offers 'emergency day care', so if you suddenly get called for a last-minute meeting, you can drop off your kids at the centre. Parents, aren't you already feeling so stress-free?

How's The Place?
Kara4kids has cozy indoor and outdoor spaces ensuring that children get suitable playing areas. Going to preschool is a huge step for kids as they are away from their parents for the first time, and Kara helps toddlers feel at ease and not homesick by having spaces that are similar to a house-like charm and ambience. Furniture is kid-friendly, walls are decorated with children's work and the outside areas are filled with natural flora and fauna, making the place very bright and lively. There are plenty of activities for toddlers to engage in such as rock climbing, jungle gym, indoor bicycle track, outdoor tree house and an international sand pit, all part of a whopping 4,500 square feet play area. We're sure your kids won't be able to contain their excitement!

How Do Kids Learn?
The adult-infant ratio is 1:1 and the adult-toddler is 1:2, so whether you want to send your kids here for preschool or for day-care, you can be rest assured that they are given utmost care and attention. The staff constantly make sure that children are kept engaged and are having fun. Kara makes certain that not only the physical environment, but even the emotional surroundings, is safe and nurturing. There are many extra curricular activities for the tots to take part in- like chess, art, lego, drama and dance, ensuring that kids get an all-rounded education without only emphasising on academics. Value based education is Kara's core philosophy, where children learn through play. We're sure your kids will look forward to coming here everyday!

Anything Else?
Eating right is something that is very important for your little ones. The meals at Kara are specially curated and the menu is shared with the parents. Organic food is specially prepared for the kids, from scratch. There is also a huge emphasis on hygiene- extreme care is given to each centre's infrastructure to ensure that the happiest kids are at Kara. Don't believe us? Bring your toddlers to Kara and see the smile on their faces.. because… The Happiest Kids are at Kara!

Comments