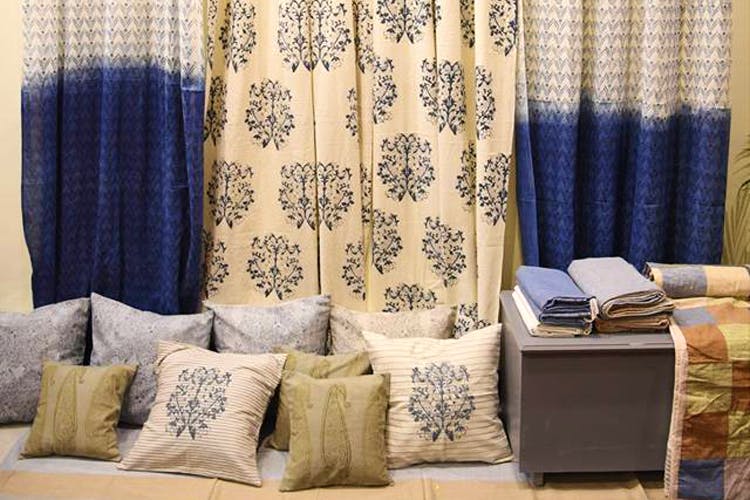 This Popular Handloom Store Empowers 300 Women And You Get Merch For Just INR 150
Shortcut
Understated and classy, Desi Shop's just launched home furnishings are just the eco-friendly touch your humble abode needs. On offer are curtains and cushion covers for as little as INR 150.
Loom Love
Showcasing the work of over 300 women, weavers and artisans from Charaka Society, a Shimoga-based cooperative – Desi Shop is a favourite with every conscious shopper in the city. We have earlier showered its clothing collection with plenty of love and you can read all about it here. And for those of you who love to bring beauty mixed with sustainability to your living spaces, you'll be happy to know that Desi Shop has just launched a home furnishings range. As of now, the furnishings is limited to curtains, cushion covers, and simple bedspreads. Like the rest of the shop, the furnishings range too is all about quality, handspun cotton that feature simple designs. The curtains begin at INR 55o for the plain off-white ones while those adorned with floral and traditional motifs crafted from natural dyes cost about INR 580 per pop. These, we think, are a great buy cause they are long lasting and can with stand the onslaught of dust that our homes are subjected to everyday.
Cushy Cushions
The cushion cover options are more colourful. You can get subtle mauves, deep browns, and mellow yellows. These come in stripes, mixed hues, and with paisley or other intricate patterns. These cost about INR 150 per piece and come in a variety of sizes so you won't have any trouble mixing and matching. They have patchwork options as well if you prefer to play around wih colours and textures. You can also pick up simple, single breadspreads. These too come in basic colours are great for everyday use. 
More Information
Desi Shop
Nearest Metro Station: South End Circle
Comments