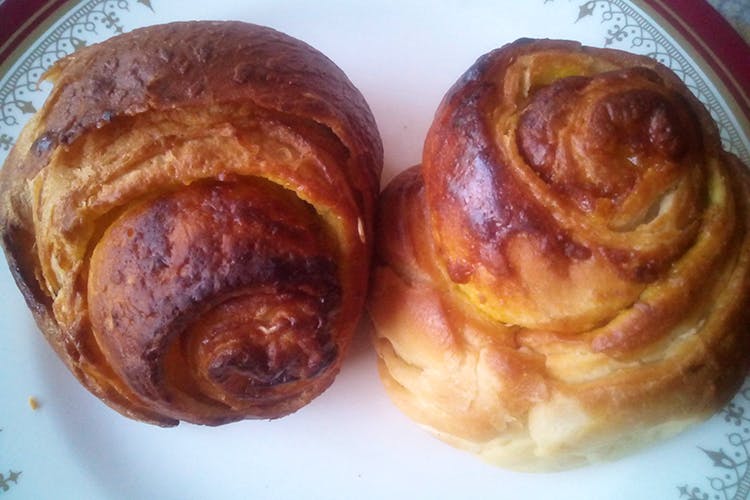 This Bakery Is Legendary For Chicken Puffs, Lemon & Almond Rolls, And Chocolate Sponge
Shortcut
One of Bangalore's oldest and finest bakeries, Fatima Bakery, on Hosur Road, is still in the business of serving delicious baked goodies. Their simple yet top-notch chicken puffs, rolls, sponge cakes, and breads are what you should pack home.
What Makes It Awesome
Started in 1957, Fatima Bakery is undoubtedly one of Bangalore's best. Ask an old Bangalorean and they'll probably have a delicious memory (or two) of the bakery. If you are looking for good old treats that are served with a dollop of nostalgia, then, Fatima will not disappoint.
First up, on the roll call are the Chicken Puffs. They are small discs of flaky pastry that layered with bits of chicken mince and onions. We recommend that you swing by early in the afternoon (they tend to run out quickly) and take plenty of these home for your tea time snacking. If you want something sweet to go with it, place your bets on the no-frills Chocolate Sponge Cake. It's moist, fluffy, and will leave you with a big smile on your face.
For when you are feeling a little more than peckish, we recommend the hunky Lemon & Almond Rolls. We love that the bread is light and when you bite in you get tiny flakes of almond coated in a tangy lemon flavour. Through the years, we've also received recommendations for their chewy Coconut Biscuits and their muffins.
But breads remain the top choice here. They have their always popular milk and brown bread variety. However, if want your bread to pack a punch, then, go for their Masala Bread. You'll get soft slices of milk bread streaked with herbs and chillies. We can gobble up slices of the bread without any help from butter or cheese.
Pro-Tip
For those of you planning to go to the one near Johnson Market, don't. They have moved to Castle Street.
More Information
Fatima Bakery & Super Market
Nearest Metro Station: M G ROAD
Comments