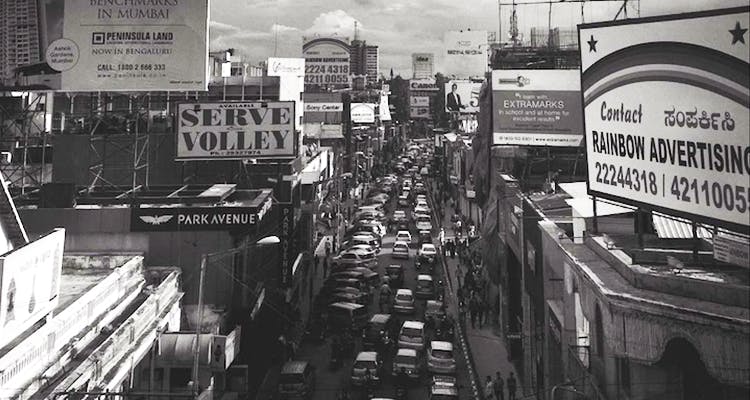 Get Yourself Work Lunches in the Central Business District
Deciding on where to eat lunch is one of the most stressful challenges of a working day. That is why we're making life easier for you with options in and around the Mahatma Gandhi Road area to give you the upper hand in making those decisions – from heavy indulgences to light-on-the-moolah options. We know that the options to eat out in this area are mind boggling to say the least, but our list offers one of every kind, just to make your life easier.
LBB's loving
Harima
Readers' vote
KC Das
Airlines Hotel
Escaping from one's air-conditioned environs to the generous canopy of grand, old banyan trees should be enough reason but they've also got an enormous, filling Channa Batura that will lull you into slumber and a dark, rich filter coffee to wake you back up.
Anupam's Coast II Coast
At this Mangalorean cuisine restaurant, asking for any of their lunch thalis – vegetable, chicken and fish – will make you very glad. We are particularly partial to the fish version with its tart, yum, red fish curry and a portion of rava-fried fish. If you are particularly hungry, ask for a serving of their Chicken Ghee Roast – you won't regret it.
Chung Wah
We'd save this place for a Wednesday when the mid-week blues hit you hard. Digging into the comforting food at this Chinese restaurant will have you feeling better in minutes. You should get everything on the menu but time not permitting – get a fried rice and a double-cooked pork.
Foodhall
Though you might have to take a quick ten-minute Metro or auto ride to this supermarket, but the lunch options here are reasonably vast. You can either try one of their pastas, sandwiches or rice bowls, which you can customise to your heart's content. And for dessert, they've got a whole bakery of options to choose from. We are particularly fond of their blueberry cupcakes.
Harima
This Japanese restaurant will prove certain respite from the numerous greasy spoons around this area and you don't have to break a bank to eat lunch here. They've got a lunch set menu, where you can pick two veggies or meat options that come along with a portion of sticky rice, salad and a bowl of miso soup.
KC Das
One has been led to believe that there are only delicious Bengali sweets to be had here, but, you can also tear into a plate of lip-smacking Luchis served with Dum Aloo and Bengali dal. It is simply outstanding and perhaps the best value for money lunch in this area.
Lakeview MilkBar
We've come to think of this place as a late-night stop-over but you should pop in for lunch, grab a roast lamb sandwich and an American Malted Shake and get stuffed for practically no monies.
MTR 1924
While the idea with these branches of the original is their modernised decor, the food adheres to the old-school standards, meaning, they've not acknowledged the health food craze yet. Feeling famished? Ask for the special meals that come overflowing with options like bisibele bhath, khara bhath and fruit salad with ice-cream and is rounded off with a sweet paan. Not too hungry? Then ask for a bisibele bhath, mix in the accompanying spicy mixture and turn over the thimble full of ghee for complete satisfaction. Mix. Eat. Repeat.
Nagarjuna
The decisions to make at this Andhra restaurant are simple: either you get the large Mutton Biryani or you order an unlimited Vegetable Meals accompanied by the super spicy Chicken Chilly and the moreish Prawns Sholay Masala. You might need a soft drink to help everything settle down.
Shiro
They've got an executive lunch at Shiro on weekdays, where you can pick an appetiser, a main and a dessert from a limited menu of their crowd-pleasers. Take your pick from delicate, stuffed dumplings to sinful chocolate desserts.
Toscano
Sometimes, lunch is the only respite from the horrors of a work-day and Toscano's three-course meal ought to make you feel relaxed and decadent. Start with an Aged Goat Cheese Salad with its tart, sour and sweet flavours, for mains, get a Roasted Rosemary Marinated Filet Mignon and wrap up your meal with a warm Apple Crumble.
Ask 1plus1 a question