For Those Old-School Rock Vibes And Soul Satisfying Burgers, Hard Rock Cafe Reigns Supreme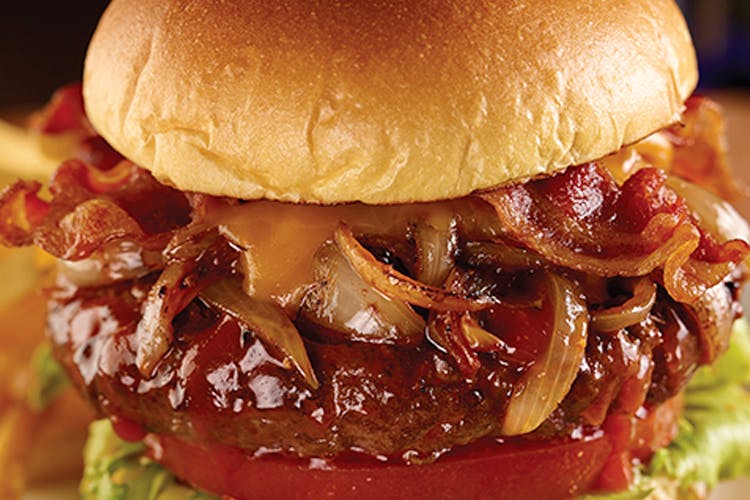 Shortcut
Greasy fries, massive burgers, beer and quintessential rock festival vibes, sometimes, nothing but Hard Rock Cafe will do.
What Makes It Awesome
OK, we get that they don't ONLY play rock music anymore, but hey, Bieber and Queen Bey classify as great, so it's alright. Don't complain when you can have the Big Cheeseburger with extra fries. Right, back to basics. Tucked in a charming and heritage building just off MG Road, you can't really miss this one — it's located in the Bible Society. Yes, you read right. We also feel a tad guilty, but quickly scuttle inside where Elvis jumpsuits, Prince's guitar and Elton John's quirky suits, and Deep Purple music seemingly atones for our sins!
The place is divided into two sections — one right by the bar and high stage (no, really, it's so high you can't always see the musicians unless you're happy to go back with a pain in your neck), while the other is a more quiet area with table, sofas and chairs. Plus, a tiny corner dedicated to the one and only King Of Rock n Roll, Elvis Presley. Once you've settled into your choice of seating, don't even wait for the menu to arrive; just order Rockin' Wings (with blue cheese, and a piquant Heavy Metal sauce), Nachos and Original Hard Rock Onion Rings which is served in a smoky sweet barbecue sauce. And beer, of course, and the Ultimate Long Island Iced Tea which has vodka, gin, Bacardi Carta Blanca and Grand Marnier, topped off with coke.
When you've danced enough to the playlist or to a band, and you need refueling of the non-liquid kinds, sample their burgers. They are truly legendary, and if you're a non-vegetarian, even more so. Most recommended is their Classic beef or chicken burger, but if you have a good appetite, take on The Big Cheeseburger — beef patty, American, Cheddar and Swiss cheese. So much indulgence, but so worth it. There's also a few Bangalore quirks that have crept into the menu in the form of chicken rolls, red chilli fries and chilli cheese toast. Looking for solid mains? T-bone steak, Mac 'n Cheese and Sri Lankan curry are other options. Make sure you end with the Hot Fudge Brownie Sundae or the Oreo Cheesecake, and then a shot of whiskey, because the place has Southern America vibes.
Pro-Tip
You can pick up official Hard Rock merch at their inhouse store.