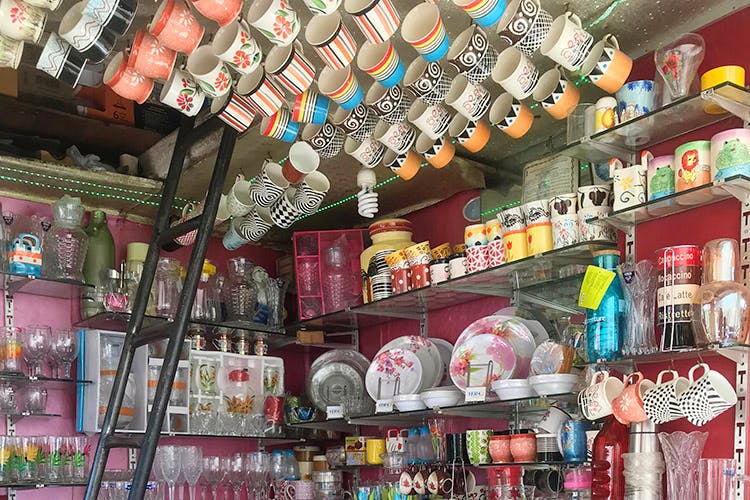 Mugs, Dinner Sets And Champagne Glasses: Score Budget Crockery For INR 20 Upwards, At This Russell Market Store
Shortcut
Scoring kitchen crockery such as ceramic jars, coffee mugs, and plates is easy and super cheap at HKGN Crockery Store in Shivajinagar. Prices here start at INR 20.
Crockery Heaven
Breaking the bank while putting together a kitchen or a dinner table isn't a possibility at this tiny store that we found. Located bang at the entrance of Richard's Square towards Russell Market side, HKGN Store, is owned by Syed, who is most likely to call out to you if you are anywhere near the shop. If not, then you will not miss this Insta-worthy shop that will catch your eye with its array of colourful crockery aesthetically arranged.
It's the vibrant mugs featuring all sorts of designs from floral to geometric and solid colours that will catch your eye. These are either hanging from the roof, the walls or propped up neatly on the racks. They start at INR 20 and can go anywhere up to INR 150. Teacups can be scored here too, either in singles or sets of six with a set costing about INR 50. If that's not a steal, we don't know what is. Maybe it's the wine and champagne glasses that come for INR 100 apiece.
Plate It Up
While mugs easily steal the limelight, the dinner plates hold their ground with floral patterns and price tags of just INR 60. It's a bit difficult to find non-white solid coloured plates on display, but if you ask Syed, he'll climb the ladder and source some yellow and black plates for you. Dinner sets complete with side plates cost only about INR 200, and we think it's time to be fancy!
Bowls of all sizes from mini ones perfect for dips to large ones for popcorn are available too. They start at INR 30 and are mostly colourful ones. Ceramic jars like the one your granny uses to pickle mangoes and make achaar are available for INR 60. So are cutesy ones perfect to keep anything from cookies to flour. Odd knick-knacks such as salt and pepper shakers, vases, and flasks complete the shop's inventory.
#LBBTip
Syed is quite the friendly chap and he can offer you discounts if you are planning to stock up on crockery.
More Information
HKGN House Ware
Nearest Metro Station: Cubbon Park
Comments