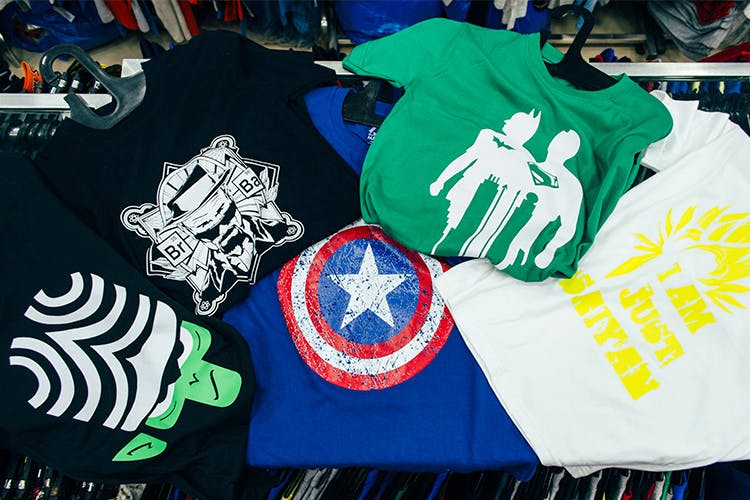 Mojo Jojo To Capt America: Snap Up Superhero And Pop Culture Merch From This Store
Shortcut
A Brigade Road fixture for long, LaBamba stocks t-shirts, boxers, and jammies that feature superheroes, cult figures from TV shows, and pop culture phenomena. Most of these come at a steal while you'll shell out a little more for original merchandise.
What Makes It Awesome
When you walk through the glass doors at LaBamba, you'll first see the rows of t-shirts lined up in front of you. They are the best bargain buys at the store on Brigade Road. Costing INR 200 upwards, these offerings are perfect for the budget-conscious shopper who can't get enough of superheroes or pop culture icons. Available in the likes of whites, blacks, greens, and deep maroons — you'll spot Mojo Jojo in action on one t-shirt. Another features the outlines of Superman rubbing shoulders with The Dark Knight while another displays a black-and-white sketch of Walter White from Breaking Bad. The Simpsons, Game of Thrones, and The Big Bang Theory tees are also on offer. In this overcrowded section, you'll also spot boxers and jammies in similar themes.
At the back of the store, there's also a dedicated section for original merchandise. Priced between INR 700 and INR 900, we spotted some great buys here. An off-white tee showcasing the Hogwarts logo, Batman striding nonchalantly through an explosion, scenes from The Simpsons, and also Star Wars. Of course, these are better designed and each of them is unique. So, if you are a die-hard fan, we bet you won't mind spending the extra bucks.

What Could Be Better
The only possible drawback is that the designs are basic for the regular merch. But they are definitely worth your money and can easily be worn casually or to bed.

Pro-Tip
You can also snap up some neat merchandise at the store. There are large, framed posters that will add a spot of brightness to your space. Plus, merch from sports clubs including Real Madrid and FC Barcelona. There's a wall dedicated to keychains crafted from metal and featuring all our mythical heroes. Also, if you are investing in original t-shirts ask nicely for a discount and you are most likely to get 10% off.
More Information
La Bamba Fashions
Nearest Metro Station: M.G. Road
Ask Navya a question