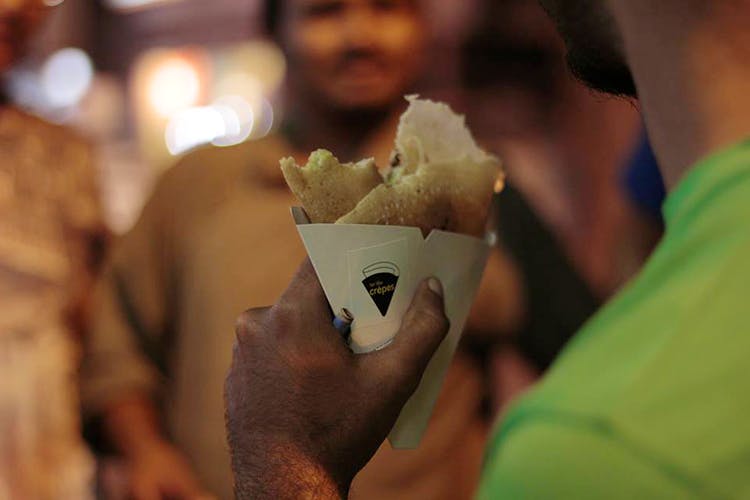 Hang Out At This Koramangala Joint For Its Fresh Fruit Crepes And Its Super Friendly Chef
Shortcut
From sheek kabab crepes to strawberry Nutella ones, Lot Like Crepes lends an interesting twist to the French classic. This tiny crepe heaven can be found in Koramangala's 7th Block and should be easy to spot with the crepe-inspired graffiti that covers its walls.
A One-Man Crepe Army
There's going to be a warm feeling in your belly even before you devour a crepe as you are greeted by Bapan, owner, chef and crepe guru, all rolled into one. Lot Like Crepes is pretty much a one-man show with Bapan single-handedly running it. You can almost taste his passion for food in the delicious crepes that he serves you. Made with the freshest ingredients the city has to offer, and that Bapan himself purchases every morning at 6am from local markets, you are guaranteed a fresh and wholesome treat. He even lets you try a fresh sprig of basil or a sample of his latest sauce to prove to you that his food is indeed the real deal. The menu boasts of pancakes, fajitas and omelettes, but the crepes here are his magnum opus.
Do Not Miss
Since Lot Like Crepes specialises in both sweet and savoury crepes, it's an unspoken rule here that you have to try one of each. Although you can't go wrong with any choice you make, the Chicken Peri-Peri Crepe is a showstopper. With just the right amount of spice and juicy chicken bits, you can't go wrong with this crepe. 
When it comes to the dessert crepes, be sure to try one of Bapan's fruity treats doused in generous helpings of Nutella or his toffee sauce. Pick a seasonal fruit to truly relish the moment. Summertime calls for a Mango Toffee Crepe and other options include Strawberry Nutella ones. It completely depends on what Bapan finds in the market that day. 
So, We're Thinking...
This is a reasonably priced joint. And a meal here will cost you under INR 250. Also, did we tell you that Bapan makes a cracking vegan crepe too? Crepes don't discriminate, you see.
Comments