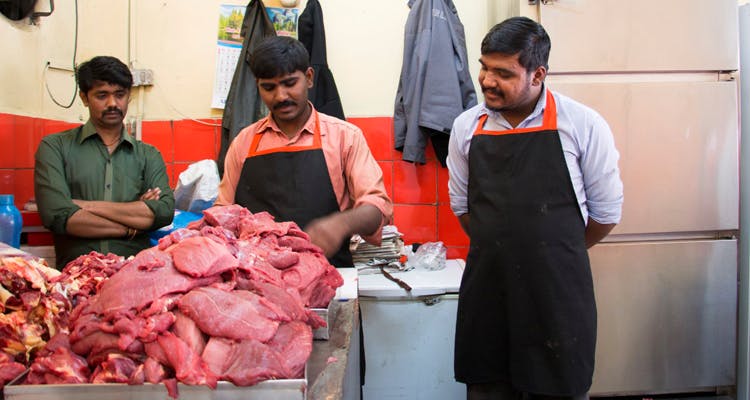 Nearest Metro Station:

M G ROAD
For its Fresh Meats as well as Cold Cuts, Lusitania is Legendary
Shortcut
Established 45 years ago, Lusitania has the answer to your every meat craving. Their fresh meats, cold cuts, and their ready-to-fry specialities have earned them a loyal customer-base, through the decades.
Bringing home the bacon
It all started with Lourdes and Lucio Franco. On their return from having lived in Tanzania, they found that Bangalore was sorely lacking, in terms of, getting their hands on succulent meats and a choice in cold cuts. Enterprising, as they were, they decided to solve the the problem themselves. And that's how Lusitania opened for business in the early 70s. The store has now been taken over by their youngest lad, Faustin Franco who loves wielding the ladle and has introduced a range of products that's made in-house.
Meat of the matter
One shop down from the famous Fatima's Bakery in Richmond Town, Lusitania (this is the original one, there's a branch near Victoria Layout as well) sees a steady stream of customers. At the front, you can browse through the pickles and spices rack. Lusitania's homemade brinjal and prawn pickles are popular with clients. You can also fill up your bags with sausages (pork and beef), cutlets (mutton, chicken and beef), salami, ham, meatloaves, meatballs and roasts. Behind the counter, a team of men work their blades and chop up your meat of choice the way you like it. From steaks to mince, fillets, spare ribs, and gizzard – they have it all. PS : They also have a handy delivery service that promises to get you your meat right at your doorstep.
Comments
Nearest Metro Station:

M G ROAD