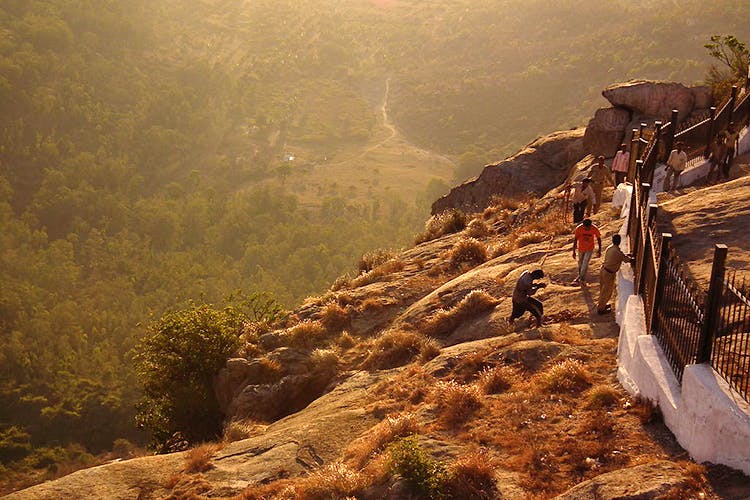 Sunsets, Ancient Temples Or History: So Many Reasons To Love Nandi Hills
Shortcut
Don't turn your nose up at Nandi Hills. Apart from gorgeous views, there are ancient temples, forts and even colonial houses to check out once there.

What Makes It Awesome
Sure Nandi Hills has lost a bit of its charm with crowds swarming the place, especially on weekends. But there's an easy way around this. Wake up early, trek up to the peak, and make sure it's on a weekday when there aren't too many people there. The hike up to the peak is about 10 kilometres, and the entire time, the sun was slowly rising up above us. Make sure you take photos on the way up. There are a few vantage point with rocks jutting out from where you can get a clear picture of the village below, and the city in the distance. Once up at the peak, we recommend a stop at the walkway that hangs over the hill. A bit intimidating at first, you'll get used to it and soon enjoy the views.
At the top, there are ruins of Tipu's fort as well as the exact point where it is rumoured that Tipu pushed his prisoners to their death from. Aptly named Tipu's Drop, it will give you the chills. For something less eerie, the Bhoga Nandeeshwara Temple and the Nandi Bull are worth a gander. The pond at the temple is also a great crowd puller, especially if you're a photographer. Go forth and experiment with symmetry. Post that, walk over to the Nehru Nilaya and Gandhi House — two colonial bungalows which have had guests like Jawaharlal Nehru, Mahatma Gandhi, Queen Elizabeth, and Dr CV Raman. Once you're done marvelling at the architecture, either stop off at the canteen for dosa or grab an ice cream to go.
Those of you who are very adventurous, make note. They sometimes organise paragliding from the peak, for that thrill of flying. You're also welcome to take your rollerblades, skateboard or bicycle so you can whizz past the walkers, as you get a fair share of curves, bends, and gradient to make it an exciting trip to Nandi.

Pro-Tip
You can stay back at the Nehru Nilaya or the Gandhi House for the night if you like, as they're now guest houses operated by the tourism board.