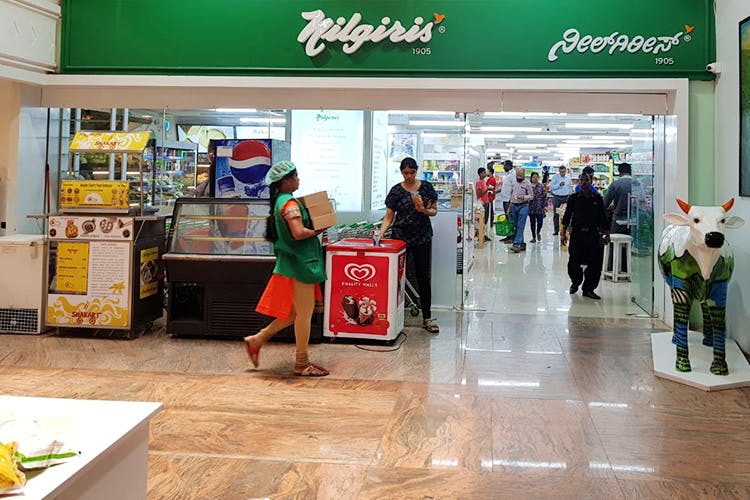 Are You Even From Bangalore If You Haven't Shopped At The Original Nilgiris?
Shortcut
After 79 long years, the iconic supermarket Nilgiris, that started out almost as a hut, on Brigade Road, has moved. But the good news is, it's moved to another spot on Brigade Road. Phew!
What Makes It Awesome
If you, much like me, were in a state of panic, sadness and confusion, when you didn't find the supermarket Nilgiris, next to Rex theatre, on the right-hand side, going down Brigade Road, don't worry. The store has not shut down. It has merely moved directly opposite its old location. To be fair though, it was at that location for at least a few centuries (OK, it was about 79 years!), so you can forgive me for first panicking!
Now that I have calmed down, and found the relocated store, nothing has changed! It still has aisles and aisles of bakery goods, savoury snacks, cereal, crisps, chocolates and biscuits. It has home essentials be it rice, dal and flour to toothpaste, shampoo and soap. Plus, dusters, mops, brooms, to keep the house clean, plates, cups and cutlery for those house parties and plenty of knick-knacks for the kitchen, dining room and dresser.
Yup, they've got pins, clothes hangers, pens, tiffin boxes, linen baskets, knives, steelware and the list goes on! Essentially though, apart from the address, nothing else has changed. In fact, since the space is a bit smaller, it's easier to navigate. Even drinks (water, juice and sodas) are all in one section, so you can shop more efficiently. We do think that the Frozen Foods section has had a bit of an upgrade bringing in seafood, cold cuts, frozen meals and dairy products from more brands and with a larger offering.

Pro-Tip
There is practically no parking on Brigade Road post 10.30am, so if you want a prime location to park, shop and load up the car, you must go here early. If not, take a cab.
More Information
Nilgiris
Nearest Metro Station: M.G. Road
Comments