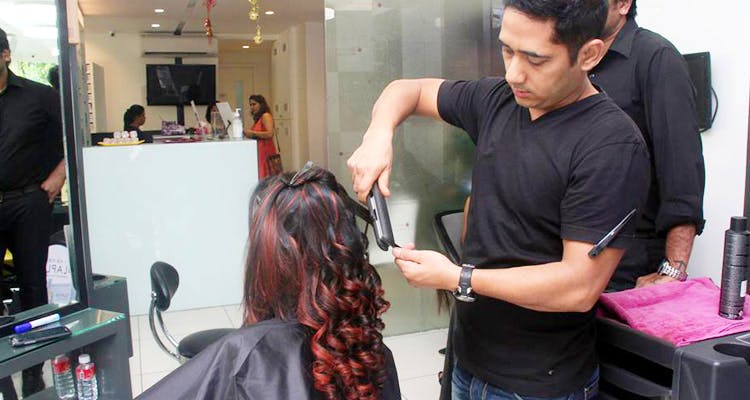 Nearest Metro Station:

Trinity
Give Your Mane A Dose of Bounce and Elasticity with Olaplex
Shortcut
Bounce Style Lounge's new offering, the Olaplex treatment, is for strengthening and repairing broken hair bonds.
Hair apparent
If you have hair like this reviewer, then most of your days might be spent in trying to coil up your dry, broken tresses into a top knot (a feeble attempt to copy fashion bloggers on a bad hair day) and trying to settle down the fuzz on your head constantly with your hands. So when I was invited to try out a new treatment at Bounce Style Lounge, I was ready to test out their new offering: the Olaplex hair treatment, and be in the fine company of JLo and Gwyneth Paltrow, supposedly fans too of this hair shaft repairing system.
Olaplex is supposedly a bond multiplier, free of silicone and oil and helps repair and strengthen hair (especially coloured hair). Three steps are involved in this, two of which (Bond Multiplier and Bond Perfector) need to be done at the salon, and step 3, the Hair Perfector needs to be used once a week at home.
Hair raising
First the stylist, tested the elasticity of my hair, by gently tugging at a few. Much to my dismay (as if I didn't know this already), she declared that my hair was very dry and completely devoid of elasticity. Hence my dry tresses were perfect to test out Olaplex and its supposed magic. Step one (a yellow liquid mixed with water) was first applied with the help of a brush all over the hair, and then the tresses were brushed out for even distribution. After waiting for  about 10 minutes, Step two ( a white conditioner-like liquid) was then directly applied on Step 1, and left to remain in the hair for another couple of minutes. A shampoo and conditioner rinse later, the stylist came back to test my hair, which she now declared had a bit of a bounce.
So, we're thinking…
My hair felt smooth and soft, and that telltale frizz that so defines my day-to-day life was gone for the time being. I am happy to report that after two days and post a wash, the silky straight feel might have gone, but the hair still feels soft minus the frizz. For those who want to continue to make their hair feel extra special, the Hair Perfector can be applied at home, and then washed off with a shampoo and conditioner.
Where: Find a Bounce Style Lounge near you here.
When: 10am-8pm
Price: INR 2,000 upwards for the salon treatment and INR 2,499  for the take-home product.
Find Bounce on Facebook here.
Check out Bounce's website here.
Comments
Nearest Metro Station:

Trinity
Other Outlets