The information in this post might be outdated
Archery, Swimming Pools And Barbecue: Revisit Olde Bangalore With A Hint Of Modern At This Tented Resort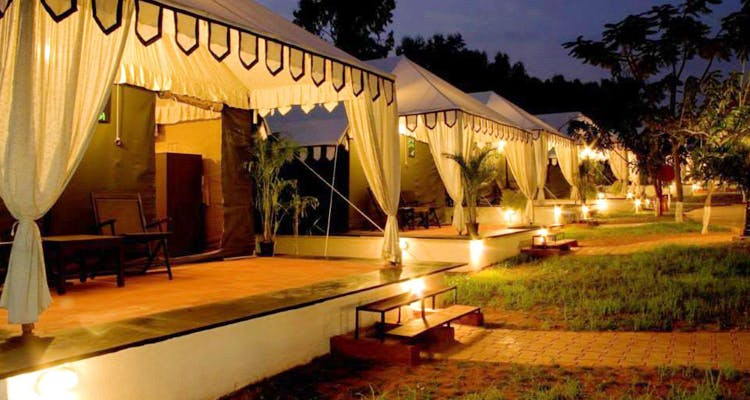 Shortcut
Go back in time for classic rejuvenation at Olde Bangalore with tented rooms, barbecue and archery
Get In On The Action
Admit it. You're constantly grumbling about the city, and you want to escape. Olde Bangalore, just ten minutes from the Kempegowda International Airport, is one solution. A trip back in time, the resort is dotted with mini gazebos to sit back and nurse a drink at, and since it's a massive property, you can choose to go quad biking, paintballing or even brush up on your archery. Of course, sitting by the pool, Bloody Mary in hand, is always a tempting option and one that the tranquil setting of this place greatly indulges.
Get your Lara Croft game on for some hardcore rifle shooting at the range if you like to kick thing off with a bang! South Parade is their multi-cuisine coffee shop with great Indian food and steaks. A lounge bar and snack bar operate all day for those uncontrollable munchies one always gets when the holiday bug bites.
Back To Camp
When you're all tired out by getting down and dirty in the great outdoors, the tented accommodation awaits. Called Caravans, the rooms are inspired by nomadic travellers – with modern amenities luckily! Think rustic but with comfy beds, power showers and AC.
So We're Thinking…
A little bit of adventure with a fall back of lying under the stars and sleeping in a tent never hurt anyone. In fact, if you need company, call us, we'll be there in a jiff. You can even pick a day package, a few hours or of course, overnighters.
Price: INR 7,000 upwards a room on a Continental Plan, INR 5,000 upwards for 6-12 hours and INR 1,250 for day packages without a room.
Comments