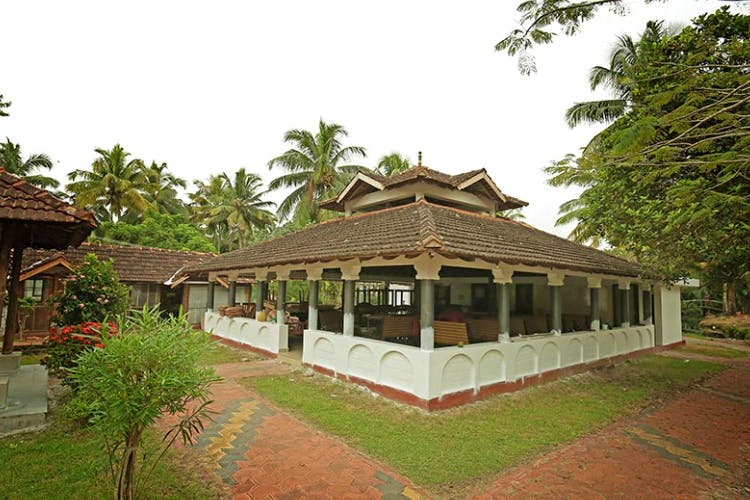 Make The Best Use Of Kerala Monsoons At This Alleppey Resort With Houseboats & Canoes
Shortcut
On the banks of Alleppey's famed backwaters is the palatial OYO Coir Village Island Lake Resort. With canoe rides, Ayurvedic spas, and all-out Kerala vibes it's your next vacation spot.
Kerala Calling
If you are planning on a trip to Kerala and want to experience the best of Kerala monsoons (which are gorgeous by the way), the best time to go is between June and October. Instead of taking to the hills, head to Alleppey's backwaters that will be full and rich with marine life and greenery. And your place to stay will be at the OYO Coir Village Island Lake Resort. Why? Well, for starters, it's nestled beside the Kollam-Kottapuram waterways and the property has houseboats for you to cruise along these waterways.
Get into vacation mode at one of the mini houses built in typical Kerala architecture with most of them offering a sit out that face the scenic backwaters. No-fuss furnishing and creature comforts in the form of WiFi and AC are available for a cosy stay. A restaurant, bang in the centre of the property, which is built to look like a naalukettu (traditional Kerala home) serves all kinds of traditional Kerala fare. Be sure to tuck into the complimentary breakfast as well as the seafood dishes such as Meen Varthathu and Meen Poriyal for lunch or dinner.
Spa-cation With A Side Of Adventure
There's no way your vacation is complete without experiencing Kerala's famed ayurveda spa treatments. The resort offers treatments such as rejuvenation and detoxification therapies that we think is perfect. Nothing like heading back to Bangalore feeling fresh and ready to kick ass. Do ask for couple massages in case you and bae need some quality pampering. Outdoor yoga sessions are available too but if you don't feel like waking up early on your vacation, dial in room service.
Post or pre-spa time, check out the canoe rides that the resort offers to its patrons. We hear that you will be canoeing it through lagoons, past paddy fields. Do stop for fishing in backwaters and taking in all of that typical scenes that greet you at these backwaters. Who knows, you will be probably welcomed to one of the houses that line the canals for tea and snacks such as pazhampori and vada. They are pretty hospitable that way.
#LBBTip
The property is currently running a discount. You can book the property here.
More Information
OYO 9766 Coir Village Island Lake Resort
Ask Sreepathy a question