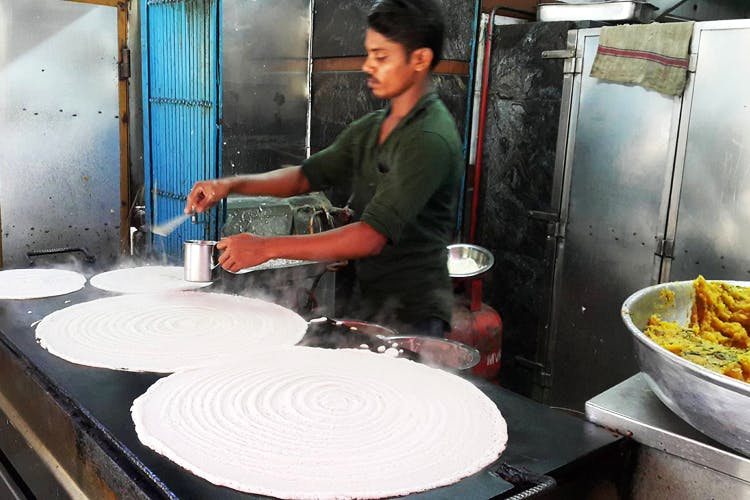 Nearest Metro Station:

Lalbagh
This Dosa Camp's Godzilla-Sized Dosas Can Be Shared By Many And Cost Just INR 200
Shortcut
RK Dosa Camp in Wilson Garden serves up ginormous paper dosas, as well as good old masala dosas in style, and at budget prices, too!
Winning For
Super low prices and very well-made dosas
Lowdown On The Ambience
There isn't much to say in the way of ambience, as RK Dosa Camp is your typical South Indian standing breakfast joint. However, the restaurant is kept immaculately clean, and dirty dishes are cleared within the blink of an eye. There are two counters: one serves idlis and vadas, while the other is a live dosa counter-turned-giant-tava, where up to ten dosas are made at a time. Service is fast and highly efficient, so you'll never have to wait more than five minutes to be served! Seating is limited, but the crowd moves fast so you'll definitely find a spot by the time it's your turn to dig into your dosa.
Dosai Dreams
If you're tired of always hitting up Vidhyarthi Bhavan and MTR, RK Dosa Camp should be your new haunt. They serve up a small but succinct variety of dosas, such as paper dosa, onion dosa, masala dosa and set dosa. We love how generous they are with their ghee and butter, which made for a delectably crispy on the outside, yet soft on the inside dosa. We decided to order their paper dosa for INR 50 and a ghee masala dosa for INR 30.
The ghee masala dosa was well made — absolutely delicious, and the potatoes were well done and only slightly spicy. The accompanying watery chutney was rich and coconut-y. The paper dosa came as a huge — and I mean gigantic — surprise! Around five times bigger than a regular dosa, there's no way you can finish this alone unless you're exceptionally hungry.
So, We're Thinking
The dosas were scrumptious and very, very well priced! While the decor is nothing worth mentioning, it's maintained nicely despite so many people visiting. Plus, the wait time is much shorter than most other iconic dosa joints, making it an overall much more pleasant dining experience!
LBBTip
They have a family sized dosa, but make note that they aren't joking. When they say family sized, it means you're going to have to bring at least two or three other people to help you finish this Godzilla-sized dosa.
Comments
Nearest Metro Station:

Lalbagh