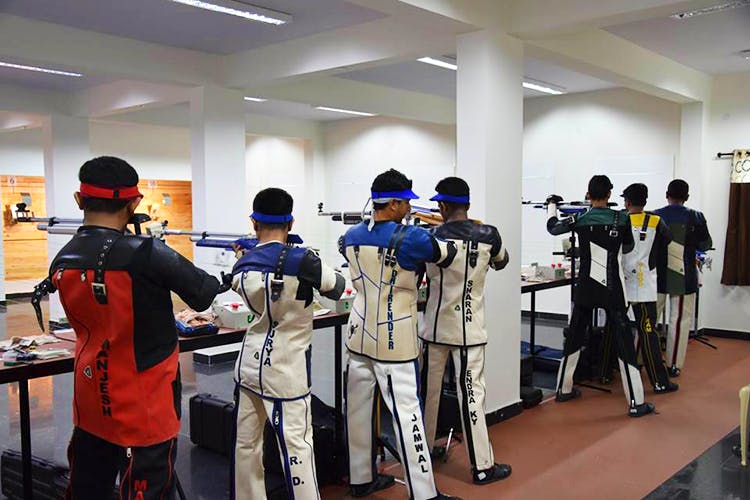 Hit The Target And Be Top Gun At Shooting Ranges Across Bangalore
Now, this is no way means that we endorse gun violence or shooting, but as a sport, shooting can be highly beneficial. From training the mind and the eyes, to helping you focus and build restraint, shooting really is an upcoming sport. Under supervision, you'll learn to handle a gun, and then shoot target at varying distance. Skill and thrill come together in this sport, and we warn you that it can get addictive. So whether it's to just learn a new skill, let off steam or you want to win India a gold medal at the next Olympics, head over to these shooting ranges in Bangalore and hit the target.
Rayan Sports Rifle Shooting Academy
An 10-meter indoor range, this one is ideal to kick start your interest in the sport. With Indian and foreign weapons (the 0.177 air weapons to be precise), there's weekly, monthly and yearly classes for you to pick from. Then once you're given the green signal by the experts, the academy will let you practice on your own. Since this one has electronic targets, it's great for newbies. Pros, you're welcome here too.
Nishaan Sports Shooting Academy
Set at the National Games Village, all you need to do is a basic foundation course before you start practising here. If you're a firearms license holder, then you can get a direct membership and use the facilities. If you're not interested in shooting as a sport, then fear not, they have guest deals too. So when you feel inspired, sign up for just INR 120 for 20 air rifles shots. If you're like us, you'll just want to keep going.
Golden Ace Shooting Range
Lead by Mr Santhosh, this one offers personalised tips and guidance for those interested in shooting as a sport. But you're welcome to come anytime you like for just some air rifle shooting, provided you're accredited by the Karnataka State Rifle Association (KSRA). For the more focussed among you, they even have training sessions and you'll be a pro in no time. In fact, we're planning to sign up for their foundation course which spans 24 sessions. Want to join us?
Shooting Association Of India, KSRA
Ah, you've got to be serious if you wind your way to this institution. A full-fledged complex, there's a 50-metre Range, 25-metre Pistol Range, 10-metre Indoor Air Gun Range and a Trap & Skeet for competitive events too. Arm Licence holders are welcome to come and practice, but what we like about this range and academy is their Civilian Rifle Training Course which teaches you the techniques of shooting and rules of safety. In fact, this is the course you need to take, and it's mandatory if you want an Arms Licence.
Bangalore Rifle Shooters Academy
Just about a year old, the BRSA is an independently run shooting club which has rifle and pistol ranges, in addition to coaching classes. If you're new to the sport, there's a course, both practical and theory, to initiate you into shooting. If you're a pro looking to practice, you can book yourself a station for a day (INR 300), but you need to bring your own equipment. If you're looking to have some fun, then you get a round of 20 with an air rifle or pistol at INR 100.
Target Shooting Academy
Quite a swanky academy, there's three ranges – two outdoor (50 and 25 metres) and one indoor (10 metres) for a mix of airgun shooting or .22 and .32 calibre shooting. With a choice of clay or paper targets, you can either become a member or use facilities as a guest. They also have a course which will certify you as a civilian License Arms holder.
Comments