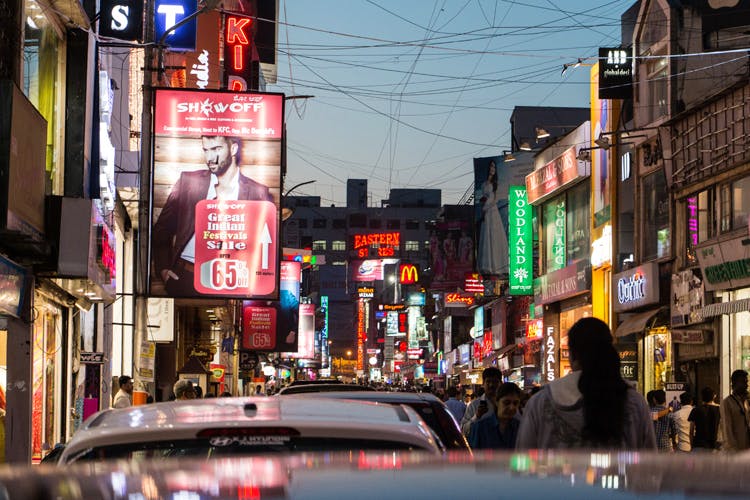 Best Shops And Lanes: The Ultimate Guide You Need For Acing Shopping At Commercial Street
Yes, we know Commercial Street is a haven for shopaholics. From the simplest of trinkets to the trendiest of clothes, we bet you will find them all at this place. But, it's not always easy to navigate this maze of stores to find what you want. We went exploring the area, just to pick out the best spots for you to head to (if you're new to the city, we suggest you take note). No more hunting, only happy shopping.

Hi-Street Mall and Mahaveer Mall
Located next to each other and right below Mysore Saree Udyog, these places are a must-visit if you're looking for cosmetics. With shops selling imported cosmetics (everything from makeup to shampoos and perfumes to lotions), you get the best of everything at the discounted prices. MAS Collection at Mahaveer Mall has a great collection of cosmetics and while you're at it, take a look at their snacks and chocolates, too.
Price: INR 150 upwards
Praachi's At Mahaveer Mall
Known for its designer home linen, this store has some of the most charming bedspreads, pillow covers and cushions in a variety of designs, to spruce up your space.
Price: INR 800 upwards
LB Prakash
Over 15 years old, LB Prakash is who you need to visit in Commercial Street for bridal blouses, gowns, and lehengas. Prices for the blouses start at INR 700 and can go up to around INR 3,000 for the decked up versions. If you love picking up fabric for your kurtas and getting them customised they will be happy to help you out with trendy designs that begin at about INR 750.
Price: INR 700 upwards
Vashi's House of Jeans
No trip to Commercial Street (OK, Kamaraj Road) is complete without checking in at Vashi's to get yourself a pair (or two) of denims. Be it skinny fit, straight fit or even linen pants (in some great colours), you're bound to find a pair that fits you perfectly. Read more about it here.
Price: INR 1,200 upwards
Ibrahim Saheb Street
Running parallel to Commercial Street, this lane has shop after shop showcasing an array of ethnic wear to choose from, be it readymade salwar suits, fabric or saris (starting from INR 175). And, if you're particularly fond of mixing and matching, there are dupatta centres scattered along the street, offering dupattas of different materials, colours and patterns (INR 70 upwards). The lane is also home to many tailoring shops where you can get your salwars or sari blouses stitched, within an hour (more like 24 hours actually) even!
Price: Starting from INR 250.
The Reliance Stationery Mart
Having been around since 1948, this stationery store is an artist's haven. Known for its wide selection of quality painting and art supplies, The Reliance Stationery Mar is a popular haunt for artists from all over the city. But you certainly don't have to be one to check out this well-known store. Read more about it here.
Price: INR 300 upwards
Mecca Life Style
Walk into Mecca Life Style (which has been around for 90 years, says the owner) and you might feel transported to another world, away from the busy shopping area it is actually located in. Surrounded by shelf after shelf of crockery pieces, you'll be tempted to take your time admiring the exquisite ware. This includes tea sets, dinner sets, mugs, surahis (long-necked jugs) and lanterns in different colours and designs.
Price: INR 100 to INR 3,500
Asiatic Arts & Crafts
If you're in search of interesting handicrafts and antique stores in Commercial Street, look no further than this crammed shop. In fact, there are two separate but similar stores, right next to each other, overflowing with artsy goods. From tiny hand-carved keychains and bells to wall hangings and giant clocks, this place has enough to keep you busy for a while.
Price: INR 25 upwards
Gollar Lane
A bylane right next to Anand Sweets, this is where you can score footwear and bags at really low rates. Simple or stylish, sandals or cute flats, whatever kind of footwear you're looking for, Gollar Lane won't disappoint you. Adding to the joy of your shopping spree, there are stores selling funky accessories as well. Our favourite here though are shops selling Kolhapuri chappals.
Price: INR 100 upwards
V R Plaza
This space with its inconspicuous banner saying 'Elegant Blouses' has a great collection of readymade sari blouses with intricate embroidery and embellishment on them (starting at INR 500). While some are in colourful greens and reds, black and gold (slightly OTT we say), look out for the simpler cholis stitched out of Ikat and Kalamkari fabrics or those fashioned out of cotton with vintage floral prints on them.
Price: INR 250 upwards
Jeweller's Street
This might sound obvious but we just couldn't talk about Commercial Street and not mention this place. A whole street dedicated to jewellery shops, this is where you can pick up artsy silver jewellery in unique designs. Apart from a few gold and imitation jewellery shops, the lane also has stores where you can get your nose or ear (for the adventurous, belly piercing is also a possibility here) pierced.
Price: INR 200 upwards
Murako Clothiers & Outfitters – Textiles & Tailoring
Mensfolk, Murako is your one-stop shop for perfect fitting suits, jackets, sherwanis and trousers. From minute details like embroidery to customisation of the length and fabric, they take care of it all. Got a festive occasion coming up? They'll deck you up in achkans, too. Read more about it here.
Price: INR 3,700 upwards
Kamaraj Road
The street perpendicular to Commercial Street, it's a proper lead up to the main shopping hub. But with massive stores for Metro shoes, Westside (this one covers four floors and has kids, men, women, sports, books and home decor under one roof), and a Manyavar too! Of course, this street is best known to have the original Vashi Jeans and good old Mysore Saree Udyog. The recently opened, Koskii has taken over a large space too, so for all our Indian wear, this is where we'll be going.
Dispensary Road And Dickenson Road
Ah, where to we begin! We'll skip past Safina Plaza and lead you closer to Commercial Street. From Curtain World for all kinds of amazing curtains (including ones that feature the suits of a pack of cards) and Looking Good Furniture to Sanskruti silks for sarees and designer Manoviraj Khosla's studio, you're sorted for it all! Oh, and if you're out to buy jewellery, pick from Kalyan Jewellers, Malabar Gold & Diamonds, or Jos Alukkas.
Comments