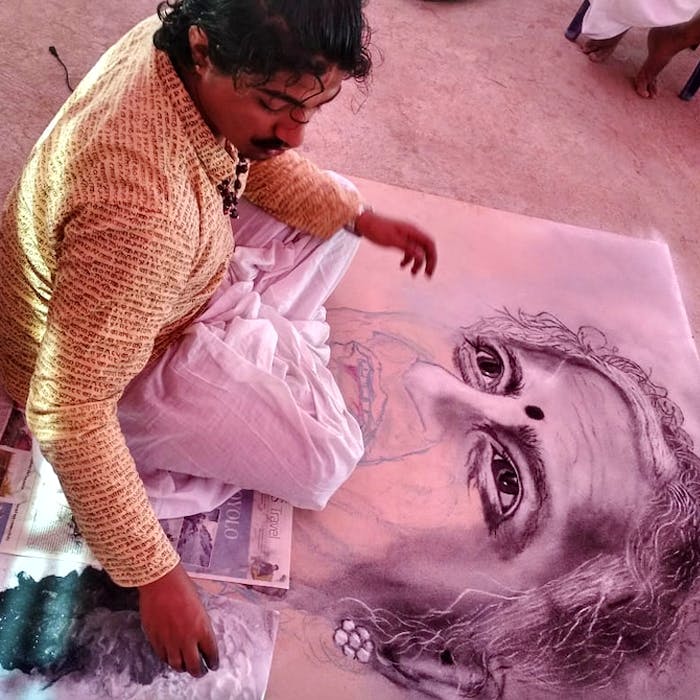 Get Your Portrait Made Out Of Rangoli And Frame It Too!
Shortcut
Whether it's your wedding or 50th birthday, Rangoli art is a great way to remember your day by. Especially when it can be framed and hung on the wall for you to admire and show off.
What Makes It Awesome
Shreyo Foundation is an organisation that is keeping alive the traditional art of Rangoli. It is an intricate pattern drawn by hand, usually outside homes as a way of welcoming guests. Taking the design forward is Akshay Jalihal, who is using this art form to express folk stories and important issues to create awareness among people. Akshay's forte lies in the fact that he is using Rangoli to make a profession.
Invited to weddings to draw out a portrait of the married couple or even the recent invitation by infamous Kiran Mazumdar Shaw to make her portrait, Akshay has become popular as not only entertainment to guests at an event but also to have something beautiful to remember it by. Spending sometimes even 72 hours on a sketch, Akshay is open to the idea of chalking out any idea given to him. With a lovely wooden frame around the art, it can make for a great wall piece at home as well (or even a great gift idea, we think!). What are you waiting for? Throw him his next challenge!