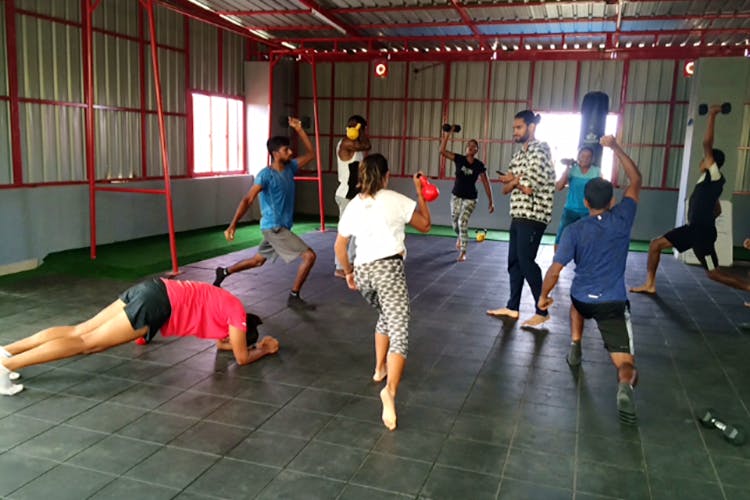 Koramangala's Latest Fitness Centre Focuses On Customised Workouts & Functional Training
Shortcut
A 360-degree functional training facility, Strike Fitness is all about keeping it real when it comes to working out and staying healthy. So, no dramatic stuff here. Just useful and realistic.
Getting Personal
Started by Rinny Jr, a martial artist, Strike Fitness, was born out of his own quest to educate himself about mental and physical fitness. In fact, despite his interest and passion, he says he often struggled on his own journey due to the pressures of a corporate life, limited time and lack of training variety which often led to boredom. That, and to counter the callous mindset most gyms in town have towards personal training, he started Strike Fitness. So hopefully, this place will help you get fit with some smart training! And nope, we're not talking about those intense YouTube videos or those unbelievably fit people telling you to do 37,862 burpees in 7 seconds. 
This place however, focuses on training through body weight routines, calisthenics, free weights and even martial arts to suit your temperament. They will customise your fitness regime based on your specific requirements and classes are held in small batches, no more than 10. So if you're used to standing at the back of a massive class, doing your own thing, think again! They'll be watching! It's like having a personal trainer for the price of a regular class.
Keeping It Real
Currently, apart from cardiovascular endurance, strength, stamina, flexibility, power, speed and balance training, co-ordination, agility and accuracy make up the 10 pillars of physical skills and you can hone them all here. From HIIT circuits and the super fun Zumba dance workouts to some serious yoga and high intensity kick boxing, Strike Fitness will sort your out with many options. If you're bored on one form of workout, they will find you another and work on different skills. Their Martial Arts offerings too are on point. Be it MMA, karate, Judo, Brazilian Jiu Jitsu, self defence or close quarter combat, you'll soon be fighting fit.
If all this is too action oriented, fear not! They offer several forms of yoga including Hatha Yoga, Yin Yoga and Power Yoga along with deep meditation and Tai Chi. And the best part? Monthly prices start at INR 3,000. Look out for some cool open sessions on weekends. You might learn a thing or two about kickboxing, Yoga and self defence before you even join a class.