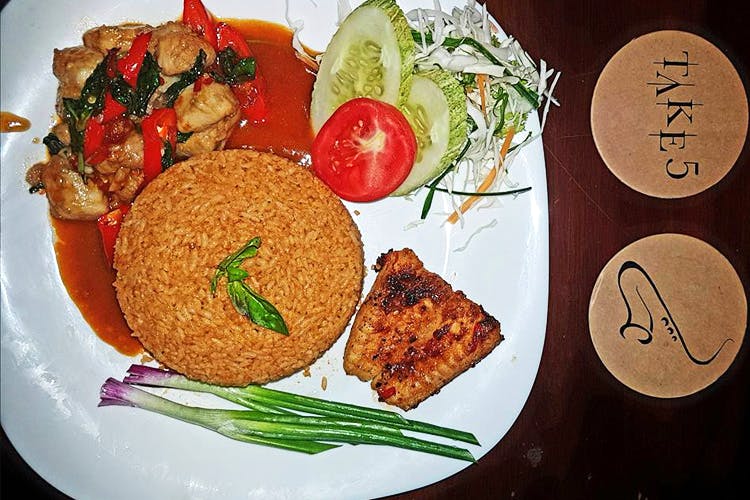 For Old-School Jazz And Rock To Juicy Steaks And Pub Grub, Take5 Lounge Is Bae
Shortcut
Take5 has been keeping Bangalore happy with rock, Blues, and jazz as well as Chilli Chicken, Bacon Wrapped Prawn and Cheese Croquettes.
What Is It?
One of the first restaurants to also have a performance space, Take5 has been killing it with food for the soul — both music and actually edible stuff! Essentially a gastropub, it's a great spot to catch new musical talent, or even veteran bands because it's so iconic. With chilled beer in hand, life is good. 
Who Is It For?
If you've been around for a decade or so, this one was where you'd go to watch live music — mostly jazz, Blues and old-school rock. So this is for those who want to run away from EDM and annoying pop even today. It's also good for food even if not the music. But go early if you're looking for a quiet evening. Post 9pm, it's is anything but quiet!
What Is The Ambience Like?
Like a typical pub, there's bar seating, a few tables and chairs for groups, and high tables that double up as sharing ones on crowded nights. The brick walls have pictures of musicians hanging from them, but all eyes on the small stage for them bands are playing. It's really the quintessential gastropub!
Must Eat
Corn on Toast, Chilli Chicken, Bacon Wrapped Prawns, Classic Roast Lamb, and vegetarian Au Gratin.
More About The Experience
While it's a bit dark, and slightly run down now, the charm remains. Especially when super cool bands hit up the stage. And trust me, there's many who've been there — from The Chronic Blues Circus to Girish And The Chronicles. Plus, comedians and karaoke jockeys too. While the food isn't gourmet, it's the kind you want when you're out partying. Service can be a bit slow, but hey, sit back and enjoy the show.
#LBBTip
They also have a smattering of Chinese if you fancy the old-school, greasy Manchurian, chilli chicken, garlic stuff.
More Information
Take 5
Wi-Fi Available

Nearest Metro Station: Indiranagar
Comments