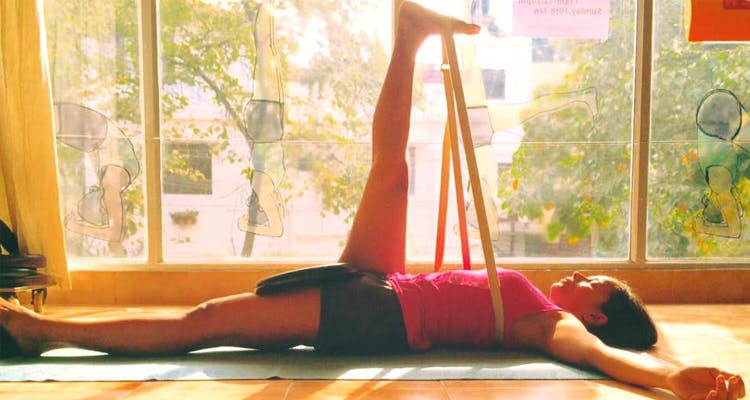 It's back to Iyengar Yoga Basics at The Practice Room
Shortcut
The Practice Room focuses only on Iyengar yoga, and is great to perfect technique while building strength and stamina.
Back to basics
When we went to one of the classes here, all expectations of it being like usual group fitness classes were dispelled. It's a highly disciplined space where founder Jaya Chakravarty, and her husband, Mohan Polamar (cheekily referred to as the Man of The House by the leading lady!), will make sure that you do things right even if it means singling you out and giving you that extra personal attention. A first for us, when it comes to large classes. Not rigid by any means, you'll need a class or two to understand how Chakravarty works because she's great with humour, but will not hesitate to tease you if you fake an asana! Take her advice and yoga seriously and you'll get on fine. So basically, make sure that you do not 'let your tailbone stick out' and certainly don't 'curve the back' or you'll be in the centre of the class showing others how not to do Iyengar yoga!
Being original
That said, we love that she is very particular about the asanas, all original BKS Iyengar methods, of course. They work with props too, so expect wooden gadgets, belts and ropes to help you perfect the asana. See, you do get by with a little help from (prop) friends. She'll give you options if you have chronic problems, and will work on them while the rest of the class continues on. It's just brief modifications or simple alternate exercises, but she takes individual problems super seriously. Another reason we love learning from her.
So we're thinking…
Don't worry if you are an absolute newbie at yoga, Chakravarty and the Man of the House will be at hand to pull you up to speed. It's when you'll really learn rather than imitate.
Where: 5/4-1, Wheeler Road Extension, Corner of Milton Street
Check out their schedule here.
Contact: +91 9535048899
Price: INR 2,000 for students, INR 2,500 per month if paid for the whole quarter, or INR 2,700 on a monthly basis.
Find them on Facebook here.
Check out their website here.
More Information
The Practice Room
Nearest Metro Station: Halasuru