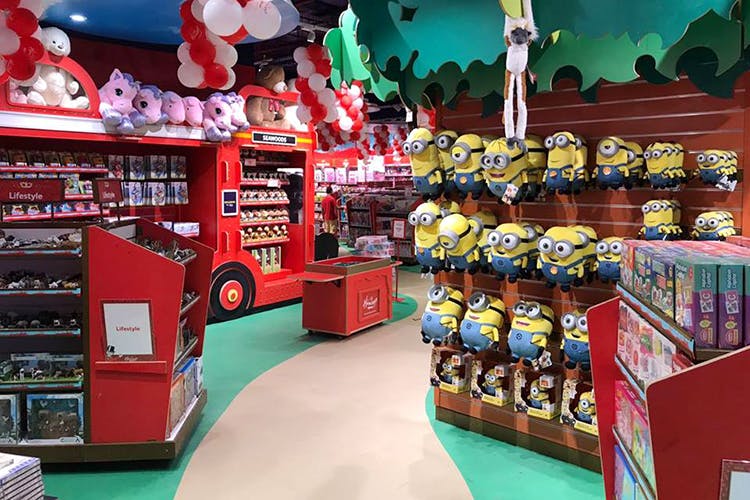 Looking For Toys For The Kids? We Got You Covered
From a simple toy like a ball to the most complicated video games, you hand any toy to a kid you will know that you are the best person in the world to them (for a few minutes, at least). And only when you walk into a toy store yourself, will you truly understand the accuracy of the phrase: Kid in a toy store. So we've done the rounds in Bangalore, and we can assure that these are the top toy stores you have to visit to get your child (or their friends) the perfect birthday gift!
Hamley's
Almost every mall in town has one! You cannot miss the Hamley's store wherever you go, be it 1 MG Mall, Phoenix MarketCity or Mantri Square -- the big red double decker bus filled up to the brim with soft toys and the whole arrangement of the store, inviting you and your kid in for a ride of a lifetime. We recommend you take you kid here to get the best high functioning gadgets like hover boards, remote control cars, drive-on cars and even the tallest Avenger Figurine you can ever find in Bangalore.
Sapphire Toys
Koramangala and Richmond Road having the biggest ones, and it doesn't get more iconic than Sapphire! If you are looking for old school toys, you know the ones that pre90s kids had – like YoYos, toy cars, board games, soft toys, cycles etc. – Sapphire if the place for you. With a huge collection of soft toys, cycles, ride ons, Sapphire not only boasts of these basic toys but also a good collection of books for ages 0 – 10 years. It is also a one stop shop for all parents looking to do some toy shopping as well as picking up basics like shoes, socks and accessories for your tiny tots.
Toys R Us
Your kid a fan of Paw Patrol or Dora the explorer? Head straight to Vega mall to get to Toys R Us! We don't have to wait for NRI relatives to come to India to bring you those amazing soft toys or those adorable baby clothes from Babys R Us. With a wide range of toddler clothes, to an amazing collection of action figures, you will be transported to a different place after you are greeted by the friendly giraffe.
Full Of Toys
With a stern belief that "Toys Become Us", Full of Toys is stocked with toys/games that have a learning angle associated with them. Puzzles and board games are their specialty, but to keep the kids really engaged, they even have workshops. It involves kids (older ones, of course) educating themselves with crafts, building and exploring. Unlike the other large chains, there is something quaint about entering a small toy store and finding exactly what you want – so go on with your tots or tweens to make it a fun-jucational experience.

Toy World
From your classic pull along toys to board games, you might just want to pop into Toy World on Commercial Street, in between all your clothes shopping. Squeezed between the Arrow showroom and Karishma Silks, we recommend you keep your eyes peeled to pick up the latest toy craze going on as they have it all.
Comments