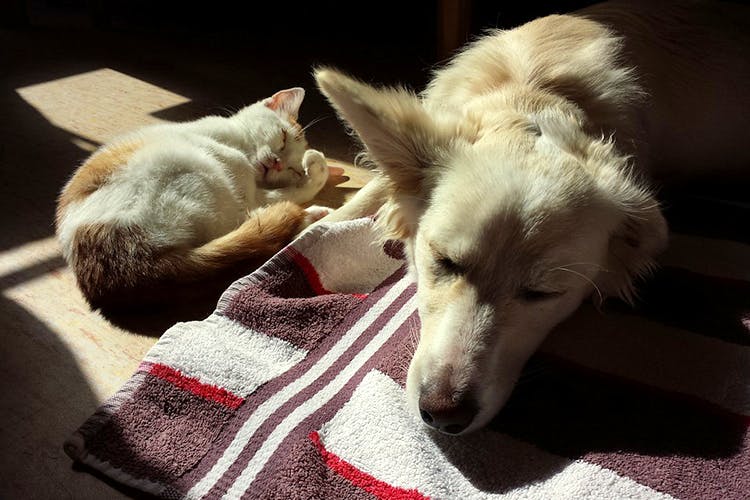 Pet Parents, Here's Our List Of Vets Who Come Home To Make Your Pooch Feel Better
When the poor pupper or kitty is ill and too weak to make a trip to the nearest animal hospital and you don't want to risk them getting an infection, hit up these trusty vets in the city that come home and pay the sick fluffball a visit and make them feel better. Here's our list of vets in the city that make house calls.
Petzz
A four-month-old organisation, Petzz has about 25 veterinary doctors on board ready to come home at a moment's notice and make your fluffball feel better. Whether it's an emergency situation or a matter of convenience, you can give them a call and a vet will be at your doorstep within an hour. They even have plans and packages you sign your pooch up for. But one time calls and visits work too.
Dr. MD Shiyad K K
With a BVMS (Bachelor of Veterinary Medicine & Science) and M. V. Sc degree under his belt, and six years of professional experience, place your precious pet in the hands of Dr MD Shiyad K K, who makes house calls from 9am to noon in parts of South Bangalore like JP Nagar, Bannerghatta and BTM. For a regular checkup or visit give him a day's notice and for emergencies, he'll be over as soon as he can. You can find him on Practo and get in touch with him.
Dr KM Channakeshavamurthy
A retired veterinary doctor with over thirty years of professional experience to back him up, Dr. KM Channakeshavamurthy is only available for house calls these days. Be it regular checkups, vaccinations or emergencies, he'll be available from 9am to 7pm to tend to your pet's medical needs. He makes visits within a 5 km radius from Vijayanagar. So if you have a pooch with the sniffles somewhere around that area give him a call.
Kvets
If you're looking for quick service, check out Kvets. Besides general treatment by qualified vets straight at your doorstep, they also offer deworming services, flea and tick control, spaying/neutering, and pet lab diagnostic services -- they'll email you the result, so you don't even have to leave home to collect it. Plus, they are giving out free anti-rabies vaccines and have an offer going on wherein you can get the 7-in-1 vaccination done at home for INR 1,200.

Aaron Pet Clinic
Located in Yelahanka, this pet clinic offers both on-call as well as clinic services. They even have a pet store where you can buy things from, but if you have to get vaccinations done for your pet at home or have sudden emergencies, just reach out to Dr. Chandramohan and he will visit your home (if it's around Yelahanka) and make your pooch feel all better.
Didn't include your favourite vet on call? Tell us in Comments.

Comments