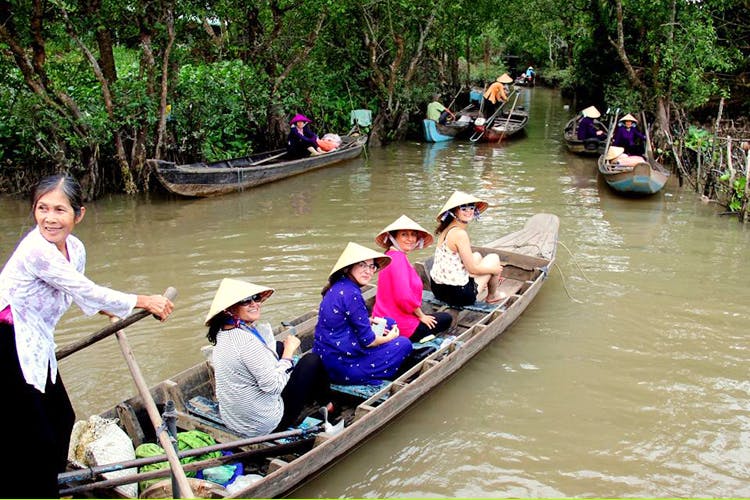 It's An All-Girl Holiday With These Women-Only Travel Groups
Cindy Lauper got it absolutely spot on when she sang 'Girls Just Wanna Have Fun'. We really do. And what better way to enjoy life than travelling. No need to bring along the boyfriend or husband either. In fact, ditch Dad and your brother too. Just rope in your gal pals, Mum, sisters or just dive in solo into the world on women travellers. These women-only travel clubs will give you that push if you need it. Here's to many holidays without them boys and their smelly socks! Ready girls? Let's go!
The Wow Club - Women On Wanderlust
The pioneer of women-only travel groups in the country, The Wow Club – Women On Wanderlust, was kicked off by Sumitra Senapaty in 2005, and it's only blossomed since. From treks to the Valley of Flowers and Ladakh and domestic trips to Sikkim, Kashmir and Tamil Nadu, ladies, you'll see India like never before. Their international sojourns are great too as they skip the usual spots. So think Greece, Iceland, Russia and Bhutan too. There's a Signature Journey category too which really takes you to exotic locations; currently that's South America for Peru, Argentina and Chile or a 10-day trip to Galapagos Islands. Want to customise your holiday? No problem, they've got you covered!
Byond Travel
These guys have a women-only club part of the larger travel portal. All about exotic destinations that are still lesser known than the Italys and Americas of the world, you can count on finding somewhere new to take you wonderful women. From Croatia and Jordan to Russia and Iceland, you'll have a swell time. What we like is that even if you join them on a trip to Bhutan or Spain, they'll have something up their sleeve that separates them from others – like practice tai-chi surrounded by the limestone karsts of Halong Bay in Vietnam.
F5Escapes
Specialising in 'alternate' travel, this Bangalore-based company has one-day trips like a quickie to Le Pakshi as well as longer 10-day ones to Ladakh. Plus, Chikmagalur and Pondicherry in the middle for a few days. Sounds great, no? So maybe we'll see you on their next getaway!
The Wander Girls
Want to troop off to the Valley of Flowers? Or perhaps soak up the sun/rain in Goa this monsoon? What's stopping you, girl? No need to wait for the boyfriend, or neighbour or colleague. Just book yourself a trip with The Wander Girls and go. You can even venture a bit further to Bhutan or Ladakh with this group. Want to customise? No probs, they're happy to help you figure your travel plans for an exclusive holiday too.
Comments