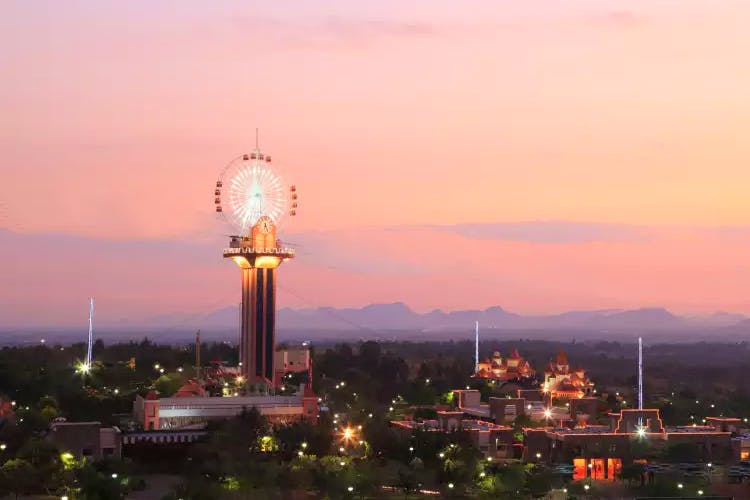 Water Slides, Flash Towers And IMAX Screens: Feel Like A Kid Again At This Amusement Park
Shortcut
An amusement park and resort, Wonderla makes for quite an eventful day out for the whole family. It could even be an all-day old-school date, we say!
What Makes It Awesome
Before you turn your nose up, hang on. Wonderla is really a rather fun place, if you don't have too much time, but want to get away. There's water rides, high-thrill (read scary) ones, and even special ones for the kids. Plus, IMAX and 3D shows to cater to those who don't have an adventurous bone in our bodies. Plus, a resort for an extended stay, time permitting.
The Wonder Splash is super fun for that thrill of shooting down the rails in a bogie and splashing into a shallow pool. If you don't get dizzy easily, make sure you stop off at Techno Jump which is a jazzed up carousel that moves up and down while also revolving. Then, my dears, take things up a notch and head to the Mixer (which really gives you the feeling of being in a blender), Equinox which seeing you being swung like a pendulum but rotating at the same time (brain warp, alert!) and Flash Tower that lifts you to the top before you're left to freefall the length of 40 metres. Needless to say, it's exhilarating once you find the courage to breathe again! Heart in mouth takes on a near-literal meaning!
Water babies! The water slides and chutes could be fun. You can either hurtle down the chutes and slides on your back or tummy for that real kick or use a rubber raft for that added bounce! Apart from splashy water-rides, there's always the pool with the multiple slides, the wavepool (in case you miss the beach) fountains, and faux-waterfalls over toadstools, among the others.
Skip across and check into the Wonder La Resort which offers luxury rooms, a heated swimming pool (after the ice cold rides!) and in-house restaurants to really make it a worth-while visit. Of course, you can eat, sleep and repeat the whole process, if you choose! Or head back to town relaxed, and we daresay with more energy than you left with.
What Could Be Better
The water may be a bit dirty due to the hundreds of people who throng the park (read in their chaddis}, X But, be warned; how hygienic the water is, always has us worried. And ladies, wearing anything less than a scuba suit will attract looks whether you like it or not, if that's something that bothers you.

Pro-Tip
They have a Fastrack ticket (INR 1,500 upwards) which lets you skip the queues and it is totally worth the extra money.

Comments