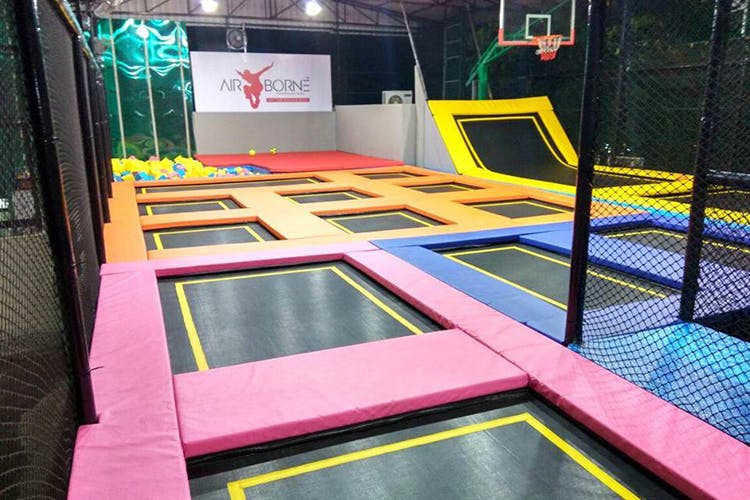 Jumping Japang! Here's Why You Should Visit Nungambakkam's Airborne At Least Once
Shortcut
Miss being a kid? Airborne – The Trampoline Park in Nungambakkam will let you be one without any judgements, whatsoever. Check it out!
What Makes It Awesome
Airborne - The Trampoline Park In Nungambakkam is bae for a number of reasons. Not only does it present a fresh break from your monotonous cafe and movie outings with friends. It is also a fun way to get fit and lose those nasty calories! The park on Khader Nawaz Khan Road is 2,500 sq.ft. of pure awesome with 15 interconnected trampolines of different shapes and sizes.
You don't even have to bother about your weight or fitness level. From bouncing around all by yourself after an exhausting day or getting your gang together to show off some cartwheels in the air (or attempt to at least!), you can choose what you want to do. Fun is guaranteed.
Airborne even has basketball hoops for the next level kind of slam dunk! You can even try your hand at somersaults (it's easier, thanks to the bounce) and there's even a sponge-based foam pit to chill in. They can accommodate up to 15 people at a time, and anyone starting from the age of three can come by! As for the pricing, the standard time slot at Airborne is half an hour, and you pay INR 250. For 45 minutes it's INR 330, and for an hour it's INR 390. For every additional ten minutes after that, it costs INR 30.
Wondering about the food? You can sip on some juices at Airborne or grab some popcorn and samosas from the ground floor cafe. There's also Singapore Icecream Sandwich on the first floor. Get off your couch and jump away!
Pro-Tip
On Sunday, it's open for all the 24 hours.
Also On Airborne - The Trampoline Park
More Information
Airborne - The Trampoline Park
Ask Shruti a question