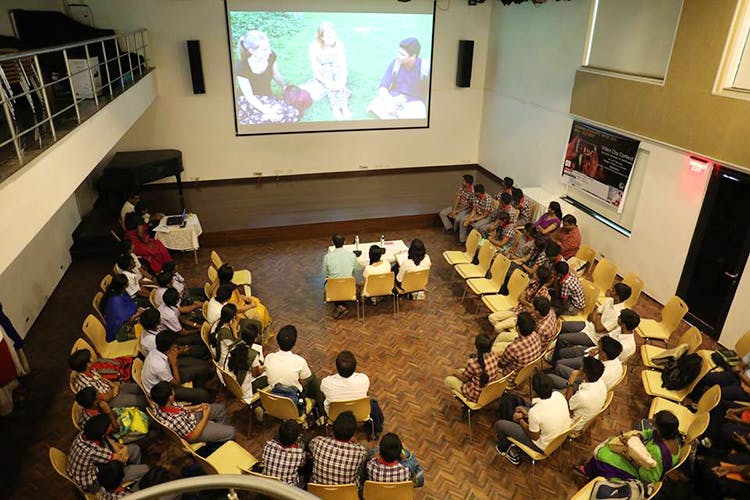 Get Your Fix Of World Cinema At These 6 Film Clubs And Centres In Chennai
World cinema fans, we know that most theaters like Sathyam and PVR only show mainstream commercial movies, so to cater to your tastes we've come up with a list of places for you that screen indie and international movies.
Alliance Francaise Of Madras
This 60-year-old Indo-French association has a dedicated cine-club for French film lovers. Each month two French movies are screened at their location, for free. Not only that, they've got English subtitles too, so if you're looking to learn or brush up on your French, this might be a great way to do so.
Goethe-Institute
Aka Max Mueller Bhavan has a repository of over 500 German films with English subtitles belonging to several genres. They host film screenings on occasion, in addition to film festivals in tandem with film societies like the Indo-Cine Appreciation Foundation, but for the most part, their films are available for borrowing, free of cost. There's even a search feature on their website that can help you find specific movies you're looking for.
Madras Film Screening Club
This public Facebook group is a collective of world cinema enthusiasts, hosts film screenings, film festival guides and general information on good films to watch. For newcomers to the indie/world cinema scene, this is a great place to find out more from veterans who've been following this genre for a while.
Indo Cine Appreciation Foundation
The big daddy of all international film societies in Chennai, the Indo Cine Appreciation Foundation hosts film festivals all year round. Each festival focuses on films from a specific country, examples of the last few are the Ecuadorean, German, Japanese and Mexican Film Festivals, all held at locations across the city. These film festivals are fairly frequent with two or three happening each month. They even host their own Chennai International Film Festival that showcases non-commercial offbeat Tamil movies.
Panuval Bookstore
This dedicated Tamil bookstore has its own film society that it started in 2015. The film society screens both world cinema and offbeat Tamil movies at their bookstore for free and when possible features discussions with directors and cinematographers post-screening.
Cinema Rendezvous
This Chennai based film club has its roots in the now-defunct Madras Film Society. The club holds monthly meetings and film screenings that are usually followed by discussions about the films being watched. This is also the only paid film group on this list, as the group functions solely on donations from its members (approximately INR 150 per month).
Comments